Disrupting the material handling sector
By Thomas AllenDecember 10, 2020
From hydrogen and electric power to robotics and telematics, an array of new technologies are changing the forklift sector. 
Various disruptive technologies are changing the forklift sector. For instance, Hyundai Mobis recently teamed up with Hyundai Motor and Hyundai Construction Equipment to develop a prototype hydrogen-powered forklift.
The medium-sized forklift has a capacity of up to 4.5 tonnes and can be operated continuously for 5 hours when fully fuelled with hydrogen.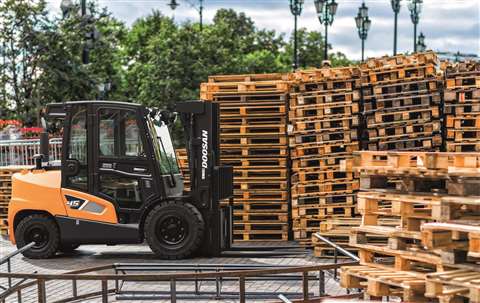 Doosan recently launched its LIN-Q Smart Telematics System for managing forklift fleets.
It uses a hydrogen fuel cell system produced by Hyundai Motor Group, paired with a fuel cell power pack developed by Hyundai Mobis. The power pack, which comprises a fuel cell stack, a high-voltage battery, a hydrogen tank and a cooling device, generates the electricity required to power the forklift.
Hyundai Construction Equipment designed and manufactured the vehicle body specially for the hydrogen model and is in charge of evaluating the product.
The hydrogen forklift will be tested in a demonstration project in the Hydrogen Green Mobility Free Regulatory Zone in the South Korean city of Ulsan, with the goal of making the machine commercially available in 2023.
The three companies are also jointly developing a hydrogen excavator prototype, again with the aim of making it commercially available in 2023.
Robotic stackers
Meanwhile, Warehouse logistics specialist Effidence and Manitou Group are collaborating on the creation of a range of robotic stackers.
The partnership between the two French companies will result in the co-design of autonomous stackers and industrial tractors. It will bring advantages to both companies, including expertise in the latest robotics technologies to Manitou Group and a strong distribution network to Effidence. The manufacturer is already well-established in the production of a custom-made robotic trolley, the EffiBOT.
Cédric Tessier, President and founder of Effidence, said, "With EffiBOT, we have shown that robots can be more than just a means of conveying goods. Our autonomous robots are a real gain in productivity for preparation operations and for operators. The company is now interested in disruptive technologies of cooperative robot fleets.
In this context, we were looking for a solid partner to extend the range of our robots to logistics flows of pallets or towing heavy and/or bulky loads and we chose Manitou."
The robotic stackers will be assembled by LMH Solutions, a subsidiary of Manitou Group, located in Beaupréau, and their maintenance will be carried out by technicians from the Manitou network.
On the telematics side, Doosan recently launched its LIN-Q Smart Telematics System – a cloud-based forklift fleet management tool that sends information directly to a mobile phone, tablet or PC.
It provides information about parameters such as service and breakdown history, battery charging, fuel efficiency and operating hours.
The service history management function provides data about replaced parts, downtime and service records, with notifications automatically sent when parts are due for replacement.
The system also records vehicle speed and any shocks in real-time. Alerts are automatically sent to the driver and fleet manager when a speed limit is exceeded or if a shock is recorded.
LIN-Q also enhances safety and security by restricting vehicle usage to authorised operators only, and they are required to carry out checks before being permitted to use a forklift.
By preventing damage, Doosan said the system preserves equipment value.
Each forklift's location is also logged in real-time, and an alarm is issued if a machine travels beyond its permitted working area or is operational outside working hours.
A regular monthly fleet management report is sent by email, with information about operational performance, uptime, consumables and service maintenance, among other things.
Vietnam opening
Forklift manufacturer Clark has begun producing in Vietnam. The company recently started mass production of counterbalanced forklifts at its new factory in Hai Duong.
The facility is now producing S-Series internal combustion engine forklifts and higher capacity models for the North American, European and Australian markets.
Rolf Eiten, President and CEO of Clark Europe, said, "With this strategic step, Clark is ensuring for its dealers and end customers worldwide that they not only have access to a comprehensive range of materials handling vehicles with excellent product quality, but also guarantees that specific regional product requirements can be met and that high availability is guaranteed worldwide."
Remarking on the high manufacturing quality at the factory, he added, "With the start of production in Vietnam, we have taken an important step for our long-term success on the world market".
The 5ha production site has room for future expansion, and the factory has a production capacity of 10,000 units per year.
In addition to the production facilities, there is an R&D centre and purchasing of supplier parts is also managed on site.
BOX STORY
Considering renting?
A key benefit of forklift rental is the flexibility it offers, providing both short-term cover to manage volatility and supplementing fleets in the longer-term.
According to Alexander Baal, Director of Sales Operations at Jungheinrich UK, there are three key considerations businesses should keep in mind when looking to rent rather than buy a forklift truck.
Alexander Baal, Director of Sales Operations, Jungheinrich UK.
How can a rental contract help my business?
Baal suggests rental offers a cost-effective way of managing demand during peak periods. When renting, he says, "there is no need for businesses to worry about interest, depreciation, insurance premiums or service costs."
Baal adds that the majority of Jungheinrich's fleet is less than two years old and is regularly updated to ensure reliability and to offer the latest technology.
How long does it take for rental forklifts to arrive?
According to Baal, there is growing demand for faster access to forklifts to manage demand volatility. Given that fast delivery times and cost are of near equal importance when it comes to renting forklifts, in the UK Jungheinrich promises to dispatch equipment from its rental locations within two hours of an order being placed.
Why is the use of telematics in rental trucks so beneficial to my business?
"Technology innovation is key to meeting new expectations for faster delivery, on-demand usage and 24/7 operations," says Baal.
There has been growing interest in a rental model based on truck usage rather than a fixed term agreement, and this requires telematics data.
Aside from the security benefits offered by telematics, Baal says, "Analysing telematics data also allows for preventative maintenance programmes to be implemented," which he suggests reduces downtime. 
Top 10 forklift rental fleets
| Rank | Company | Fleet size |
| --- | --- | --- |
| 1 | Jungheinrich | 70,000 (EST) |
| 2 | Linde | 66,000 (EST) |
| 3 | United Rentals | 51,942 |
| 4 | Crown | 49,000 (EST) |
| 5 | Folangsi | 29,006 |
| 6 | Still Rental | 28,600 |
| 7 | Toyota Material Handling (Europe) | 25,000 (EST) |
| 8 | Briggs Equipment | 17,000 (EST) |
| 9 | JHL | 7,400 |
| 10 | Mateco | 3,200 |
BOX STORY
Telehandler update
Quentin d'Hérouël, Product Manager Telehandlers, Doosan Bobcat EMEA (Europe, the Middle East and Africa), tells IRN the impact of the Covid-19 pandemic on the telehandler market in the EMEA region has varied.
The west of the EU has taken a harder hit than the east, though this is slightly skewed by Russia's performance.
At the end of August this year, the UK telehandler market, which is the largest in the EU, was down 50% year-on-year, according to d'Hérouël; "This is no surprise as it is largely driven by the rental segment, which accounts for over 40% of the total market."
Meanwhile, the French telehandler market is down 30% compared to 2019, for similar reasons, and the German market is down 20%.
The eastern side of the EU is down 17% overall. However, the Russian market is continuing to grow – it is up 7.6% on the 2019 figures – while other countries in the area are down by an average of 20%.
With regard to the Middle East, d'Hérouël says, "The GCC [Golf Cooperation Council] countries, which are the main purchasers of telescopic handlers, have been severely impacted by the worldwide crisis with a drop of -41% versus 2019, with a fall of -58% in UAE, which is the largest market in the region."
Africa, as a whole, is down by 16% on last year's figures, and within that South Africa has seen a drop of 22%.
Regarding demand for Bobcat's telehandlers, d'Hérouël says the company's plan for double-digit growth has been undermined by the pandemic this year, but it has still managed to slightly increase volumes compared to 2019, thereby increasing Bobcat's market share.
Bobcat recently introduced a new range of Stage V compliant telehandlers, powered by Bobcat's 56kW D34 diesel engine. It comprises 11 models that range in capacity from 2.6 to 4.1 tonnes and lifting heights of 6 to 18m.
d'Hérouël says, "The new 56kW telehandlers will be followed by further Stage V models powered by 74.5kW and 97kW versions of the D34 Stage V engine, which will be launched in 2021."
First to market
Earlier this year, Snorkel unveiled what it said is the world's first fully electric lithium-ion battery powered compact rough terrain telehandler: the SR626E.
The new electric model has a maximum lifting capacity of 2,600kg, maximum lift height of up to 5.79m and a forward reach of up to 3.1m.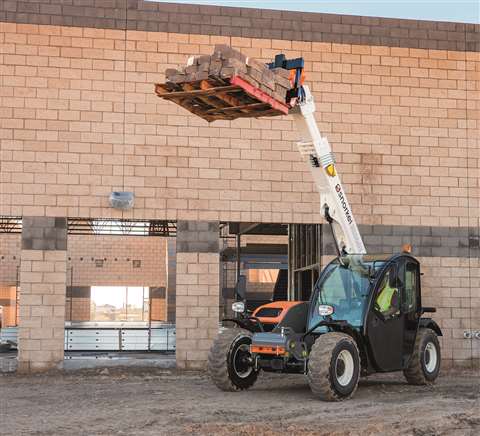 Snorkel's new SR626E compact rough terrain telehandler is powered by lithium-ion batteries.
At 1.89m wide, the SR626E was said to be suitable for indoor use, as well as outdoor projects in low emissions zones.
At the same time, the company launched the new diesel-powered SR1065 telehandler, which is capable of reaching up to 9.5m and has a maximum forward reach of 5.4m. The new rough-terrain model has a maximum lifting capacity of 6,500kg and comes equipped with full-time, variable speed hydrostatic four-wheel drive, and power assisted steering.
Pettibone has also introduced what it claims to be an industry-exclusive model that forms part of the industry's only telehandler range with an extendable, traversing boom.
The new Traverse T944X telehandler has forks that can move horizontally by up to 178cm to place loads precisely at full lift height.
Based on Pettibone's traditional design, the new model has a maximum lift height of 13.56m and landing height of 13.41m. It offers a maximum forward reach of 10.9m and a maximum lift capacity of 4 tonnes.
MORE ARTICLES FROM CONEXPO-CON/AGG 365 NEWS