Articulating booms see advancements
By Lindsey AndersonOctober 13, 2020
Just like scissor lifts and telescopic booms have undergone significant machine design changes in relation to the new ANSI A92.20 standards, articulating booms have also received facelifts.
"The two most notable updates are related to the addition of load sense systems — which monitor the total weight in the platform — and features that restrict functionality when the allowable tilt angle has been exceeded," says Marie Engstrom, product manager, Genie. "Owners and operators will need to be familiar with how these new systems affect machine behavior, which will be different than on previous generations of boom lifts."
Across the board, access equipment manufacturers have reworked machines and debuted new units in order to meet the A92 requirements.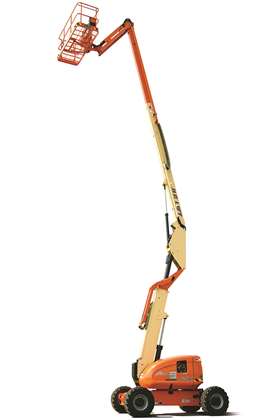 At JLG, the company wanted to maintain all the capabilities of existing machines and not introduce compromises.
"We've, like others, been able to learn from our experience making equipment to European specs and Chinese specs," says Hampden Tener, senior director, global product management at JLG Industries. "One of the things we introduced was the load sensing system, which is now required in the platform."
In response to load sensing requirements, JLG introduced the HC3 line which features a no-calibration system.
"You don't need any complex technical support or a 1,000-pound reference weight to load in the platform to set the calibration for either routine or manual service or if parts are needed to be replaced," Tener says. "You can do the calibration just with a quick analyzer. The whole shift to the A 92.20 requirements really drove the interest and the need for the high-capacity range."
Tener says operators are going to want to use machines like they always have, so JLG focused on keeping machines consistent, familiar and predicable. The HC3 models feature three capacity zones with restricted capacities up to 1,000 pounds and unrestricted capacities up to 660 pounds.
"Within all three load zones, our machines are rated for three occupants," he explains. "That takes away judging or guessing about working envelopes, it's a real nice benefit. We maintained all the same height, reach, speed and tail swing so people who are used to using our machines, and where they can go and what they can do, won't be surprised. Now, with HC3 high-capacity booms, you can take more gear, more people and more weight up."
Most A92.20-compliant machines will stop nearly all machine functions when it reaches its rated capabilities.
"To allow you to get moving again quickly when a tilt angle limit is reached, our booms will allow movement back to a compliant condition," Tener says. "If the platform is overloaded at height, for example if you pick up new tools or materials, you can simply put the extra gear back and the machine will resume normal operation."
That feature could be key for rental companies and contractors alike who might have previously been inappropriately completing jobs by overloading a machine. To offset misuse, new planning and execution with articulating booms will need to be designed.
"While load sensing does add some complexity to units, equipment operators should be aware that identical technology has been in use in other markets (such as Europe and Australia) for over 10 years; the required modules are extensively field tested and validated in those marketplaces," says Malcolm Early, vice president of marketing for Skyjack.
In order to help with this transition, Skyjack announced a range of upgrades to its articulating boom range for 2020, which gives rental companies and users increased productivity.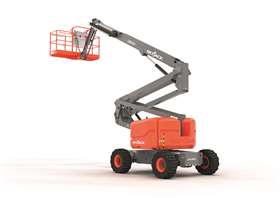 Most of the changes will be on Skyjack's 40-foot and 60-foot machines. Depending on the model, capacities are increasing up to 1,000 pounds, as well as personnel ratings up to three persons.
"We've gone one step further with these new booms," says Corey Connolly, product manager at Skyjack. "Having a range with increased capacities means that operators are able to complete tasks more efficiently across all kinds of applications. The SJ63 AJ+ now features a class leading capacity rating of 660/1,000 pounds – significantly greater than those offered by other manufacturers, with a three person capability to full height."
The nomenclature for these machines will feature a "+" to identify the increased machine capacity, differentiating the new machines from their previous models.
Along with the increased capacities and personnel ratings, the new + models will also feature control system changes which better aligns with ELEVATE, Skyjack's telematics solution.
"Adding dual capacities to the majority of booms was largely modeled after the success of the SJ85 AJ, which has been received with much acclaim since its launch," Connolly explains. "It was also important that when adding these new features to our booms that we also maintained the features which have been long associated with Skyjack."
Electrification
Customers want versatile machines to maximize their rental opportunities and financial returns in a variety of applications. Today, this means customers can consider hybrid boom lifts in place of a traditional diesel machine.
Building on the launch of its Z-60 FE, Genie recently introduced the Z-45 FE and Z-45 DC into its product lineup.
"The biggest differentiator for Genie Z-booms is the FE fuel electric hybrid models," Engstrom explains. "The Z-45 FE and Z-60 FE, like other Z-booms, can navigate tight spaces to get up, over and around congested jobsites combined with the flexibility of hybrid power, delivering maximum performance in any environment."
The Z-45 FE fuel electric hybrid boom enables the operator to switch the machine into full electric mode for work in low-noise or indoor, emission-free areas, with the flexibility to turn the engine on when moving to outdoor work.
Regardless of the power source, the boom lift features an oscillating axle, true 4x4 rough-terrain capabilities and 45 percent gradeability. Engstrom says the 25 hp Kubota engine means simpler maintenance and service while still delivering the performance needed to get the job done. The DC and FE models have comparable RT performance. Both units are highly efficient with AC electric drive, lower weight than full diesel counterparts, and non-marking rough terrain tires, helping customers get the returns they need.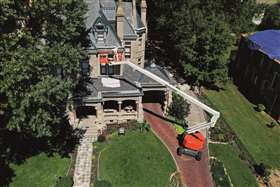 Matthew Elvin, CEO of Snorkel, says mid-size articulated booms, in the 40-foot to 60-foot platform height range are the ideal size and weight for electrification.
"At Snorkel, we plan to introduce our lithium-ion battery solution, that is currently being rolled out across our compact rough terrain scissor lift family, to mid-size boom articulated boom lifts next year, subject to customer demand," Elvin says. "Although electric versions of some articulated booms are already available, such as the Snorkel A46JE, these utilize lead acid batteries and are predominantly designed for use on concrete slab. The benefit of introducing the lithium-ion battery solution is that we can convert our existing diesel-powered booms to zero emission electric power, while retaining the same rough terrain capabilities and duty cycles offered by the diesel version."
Despite the interest in electrification, Elvin says the A46JRT diesel powered rough terrain articulated boom with a 52-foot work height is one of Snorkel's most popular boom lifts.
"This model is popular due to its compact dimensions which makes it easy to transport, and also to maneuver around confined jobsites," Elvin says. "It is commonly used in small to midsize construction projects, and operators appreciate its zero tail swing and double-riser boom design with jib for navigating into challenging spaces."
Snorkel offers customers a choice of single and double riser in the 60-foot platform height range, to deliver either more up-and-over capability or more forward reach, depending on the needs of the application. Snorkel also equips all of its articulated boom lifts with its Snorkel Guard secondary guarding as standard.
"All Snorkel aerial lifts are differentiated by a real focus on simplicity, reliability and robustness that is experienced when operating the lifts, as well as servicing and maintaining them," Elvin says. "The Snorkel A46JRT was the first in the industry to utilize a sub-25 hp diesel engine with no aftertreatment requirements, whilst maintaining gradeability and rough terrain performance. [Also,] the 38-foot-platform-height Snorkel A38E electric articulating boom delivers best-in-class height-to-weight ratio, delivering a zero-emission lift that can be used both outdoors and indoors on weight-sensitive floors."
Looking back at Bauma 2019, JLG debuted a full-electric range of booms. Available in three models – 340AJ, 450AJ and 520AJ – the boom lifts offer working heights from 40 feet to 60 feet and an unrestricted platform capacity of 550 pounds. The range is equipped with lithium batteries and 2-wheel drive as standard.
The electric 340AJ, 450AJ and 520AJ offer similar lift speeds and platform capacities as their conventional diesel counterparts. Equipped with 2-wheel drive, the range provides good terrain capability in semi-rough terrain. Maintenance and parts requirements are limited, which is a benefit of electric drive over conventional diesel, i.e. no filter replacements or engine maintenance is needed.
"We're launching [the electric booms] in Europe first and, we believe it's going to be our early adopting market for electric machines in the construction space," Tener notes. "These are lithium ion battery powered booms with AC drive, full construction capability with quick charge and quiet emissions-free operation."
"JLG is committed to the continued development of more environmentally friendly access equipment. Working on urban job sites where noise levels and stringent emission standards apply, this range provides an alternative for conventional combustion operated equipment," said Barrie Lindsay, JLG's director of engineering in Leicester, UK, during Bauma. "As a manufacturer we have improved access to alternative drive systems now that the availability of electric drive technology has matured. At this point in time we are ready to match technology with application. Also, battery development has improved throughout the years and faster and opportune charging is a reality. For JLG it is imperative there should be no performance reduction in uptime, duty cycles or terrain ability."
New launches
Manitou introduced six articulated booms for the North American market recently: the MAN'GO 33, ATJ 46, ATJ 46+, ATJ60, AETJ 43 and AETJ 49. This range includes diesel and electric models reaching platforms from 32 feet, 6 inches to 59 feet, 11 inches and horizontal outreach to 39 feet, 4 inches. For jobs requiring higher capacity, the Manitou ATJ 46+ is the answer, the company says, handling up to 900 pounds, unrestricted, with a larger basket.
"Manitou has had proven success in Europe for many years, and due to the strong North American market in construction and rental it was important for Manitou to offer the Manitou MEWP solution to our construction and rental customers and our dealer network," says François Desbriere, Manitou's MEWP global marketing product director.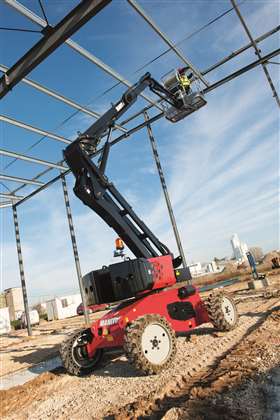 The ATJ 46 introduces new features that drastically reduce the total cost of ownership, Desbriere explains, including an automatic start and stop system and 24 hp Kubota engine that does not require any after treatment.
Maintenance costs are minimized with easy access to main components and a self-diagnostic system. The Manitou ATJ 46 has a platform height of 45 feet, 11 inches. It also features an up-and-over reach of 27 feet, 3 inches at a height of 24 feet, 2 inches. The new ATJ 46 comes standard with four-wheel drive, rough-terrain tires, 14 inches of ground clearance and a 500-pound platform capacity.
The Manitou ATJ 46+ is ideal for high-capacity jobs, the company says, with its large platform that can handle up to 900 pounds without restriction. The platform reaches up to 45 feet, 6 inches and has a horizontal outreach of 28 feet, 3 inches. Standard features include rough-terrain tires, 17 inches of ground clearance four-wheel drive and four-wheel steering.
For the rental market, Manitou developed the diesel-powered MAN'GO 33. Design elements of the machine are based on input from rental companies with a key focus on lowering the total cost of ownership.
At just 5-feet, 10-inches wide and 9,150 pounds, the MAN'GO 33 is the smallest and lightest machine of its category and therefore easier and less costly to transport, according to Desbriere. The platform holds 500 pounds and reaches heights up to 32 feet, 6 inches.
Like others, Manitou is keeping on top of boom lift electrification.
"We clearly see a trend in Europe, especially in North Europe, toward full-electric rough terrain MEWPs and that is why we have introduced, in Europe, a 60-foot fully electric boom," Desbriere says. "In North America, [electrification] does not seem to be as [popular,] but I am convinced that [demand] will come soon and we might introduce our model in North America next year."
Pioneers
Niftylift, the founder of hybrid booms, recently launched its second-generation hybrid system, named Gen2 Hybrid. 
The new Gen2 Hybrid system is powered by an EU Stage V diesel engine, which is automatically boosted by an electric motor when extra power is needed. This combination enables smaller engines to be used, than would otherwise be required, while still maintaining power and performance, said the company.
Niftylift says its smaller, power-optimized hybrid engines are more efficient than larger diesel-only alternatives and use up to 50 percent less fuel. They also produce fewer emissions, thereby minimizing their environmental impact, plus they do not require exhaust filtration add-ons.
Gen2 Hybrid includes an electric-only mode for zero-emission operation. By switching off the diesel engine, the machine will automatically run using only its electric motor.
"This makes it perfect for indoor use as well as tasks where noise or emissions are restricted and greatly increases the number of locations in which the machine can operate," says Niftylift.
The system's maintenance-free AGM batteries can be recharged from an AC, mains, power source, or by its on-board Diesel-Ren feature. This feature can charge the batteries twice as fast as AC, using any surplus power produced by the diesel engine during operation. This means that a Gen2 Hybrid can be potentially run 24 hours-a-day, using the electric motor to work quietly at night and then re-charging during the day, while running on diesel.
LGMG North America also offers electric options; its A45JE features a 510-pound platform capacity and platform height of 45 feet. The unit was launched in 2020.
France-based manufacturer Haulotte launched the pioneering rough terrain, electric articulating boom Pulseo Generation in 2018. The 68-foot working height HA20 LE Pro has a 72-volt battery pack and comes with an 18.5kW diesel Kubota range extender engine.
A second unit in the Pulseo Generation range will be launched soon, with more information becoming available nearer the time.
Haulotte chooses lead acid batteries for its units, explaining that the lead-acid battery is the prevailing technology on the market. They represent 70 percent of batteries that are produced globally and are stable, affordable, safe, reusable and recyclable technology.
Haulotte sees the advantages in the new generation of lithium-ion batteries, which are more stable than previous incarnations, and have high energy density, but not for general use across its range. Safety, cost and recyclability are also still to be perfected, the company believes.
Another clear option, in the view of Haulotte, is the emergence of fuel cells as a potential source of energy for its machines. "These are not batteries, but a device that can generate energy from the hydrogen contained in tanks and ambient air oxygen. Fuel cells provide good overall performances."
Haulotte's sweet spot in North America is its 46-foot and 61-foot articulating booms.
"The small footprint of the machines combined with 4-wheel steer and a dynamic up-and-over height gives the machine extreme flexibility on the jobsite," says Paul Jensen, product marketing manager for Haulotte U.S. "This agility is what makes the machine so attractive for use indoors as well as outdoors."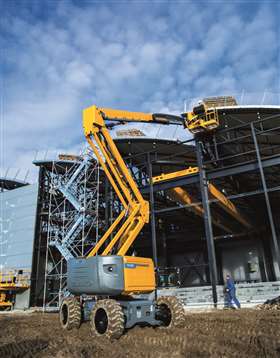 "Haulotte articulating booms are not just agile on the jobsites, they open new doors to work on projects that may not have previously been accessible," Jensen adds. "Haulotte electric booms perform just like a traditional diesel machine, but they can be used on green project sites, in hospital zones, parks, shopping malls and other quiet zones. With the non-marking tires, 4-wheel steer and crab steer features, indoor construction and maintenance can be done by the same machine that was working outside with the push of a button."
MORE ARTICLES FROM CONEXPO-CON/AGG 365 NEWS