Confidence survey reveals positive expectations for access
By Euan YoudaleJanuary 10, 2021
Access International's Confidence Survey, published in the October-November 2020 issue of the magazine, shows positive expectations from its participants, considering the challenges caused by the pandemic. 
The survey asked rental companies, manufacturers, distributors and end users in the access industry to provide their growth forecasts for 2021 and beyond. While Covid-19 has caused turmoil across the sector, the results this year have been nothing less than confidence building.
An example comes from the survey's Confidence Index, in which participants are asked to rate their expectations for the next five years out of a maximum of 100. Last year's survey saw a downbeat response to that question, with an average score of 64.8 out of 100, representing a three-point year-on-year drop. We had not seen such a low figure since the financial crisis years of 2008 and beyond.
In the second half of last year access-related companies, particularly the manufacturers, had seen an unexpected drop in sales following a softening in the market. Since then the pandemic has caused incalculable disruption to the global industry and an understandable drop in confidence, yet this year's survey Index show's a rise of four points to 68 – just above 2015 when the industry had all but recovered from the financial crisis.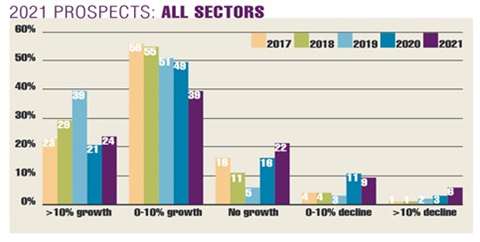 A reason for this could be that many companies feel that following global lockdowns, 2021 can only get better. And, while some survey participants use words such as, 'uncertain, cloudy and difficult', to describe the months ahead, there are others that see a real uptick in the years to come.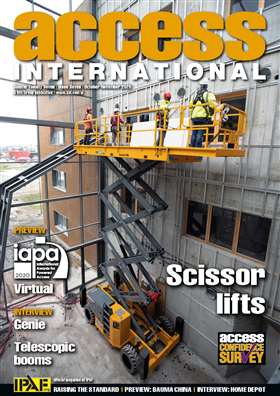 Looking at prospects for 2021 specifically, the overall view across all sectors: rental companies, end users and manufacturers, that took part, is more subdued, with forecasts for a slightly flatter year ahead than participants predicted this time last year, but not by much. While 22% of them forecast no growth next year, 63% predict some level of growth. That's combined with a relatively small rise in those expecting a major decline.
See the full results and all the tables in the October-November 2020 issue of AI.
MORE ARTICLES FROM CONEXPO-CON/AGG 365 NEWS