Demolition attachments: broadening the scope
USA-based attachment manufacturer LaBounty – the demolition brand of Stanley Infrastructure – believes it has the broadest selection of demolition attachments in North America.
The company introduced the MRX multi-jaw demolition tool and MRP mobile rotating pulveriser the start of 2020 and Stanley's director of product development Michael Moriarty said the new offering means the company's range now appeals to primary and secondary demolition, general contractor and rental markets alike.
A short centre of gravity and an open lower jaw
According to LaBounty, the MRX combines high productivity with low maintenance and is equipped with 360° rotation, a short centre of gravity and an open lower jaw for improved penetration and rapidly downsized material.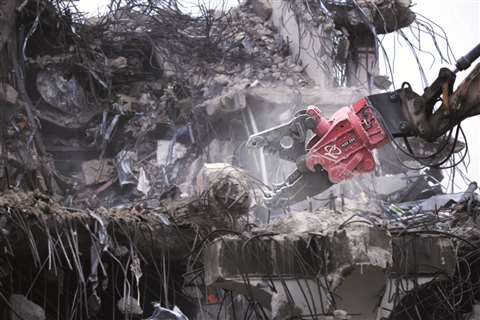 The MRP is a similar design but has a dedicated concrete pulveriser jaw and weights less than the MRX
"With these additions, we have dramatically expanded the solutions available for demolition customers," said Michael Moriarty.
"It is really just an extension of our overall strategy to be not just a one stop shop for demolition contractors but across multiple industries.
"We had the MRP at the Live Demo event during the NDA (National Demolition Association) Convention and Expo in Austin, USA, earlier in the year and it was working round the clock – everyone wanted to try it and the feedback was tremendous.
Using the LaBounty MRP in primary demolition
"And what we are hearing now from out in the field is that people are able to use it in the primary demolition to get the structure down, and then there is just a minimal amount of secondary processing to be done to further downsize and remove the rebar. But the product can do that just as efficiently. Essentially, what you are seeing is its versatility so as a rental tool there are a lot of applications you can get into. We think it can do just about anything on a demolition job as it relates to concrete.
"Obviously if you need to cut some steel as well that's where the MRX would come in."
Epiroc's CB 5500 concrete demolition cutter prototype
Germany-based demolition specialist and long-standing Epiroc customer the Oettinger Group has been testing a prototype of Epiroc's CB 5500 concrete demolition cutter in the city of Karlsruhe.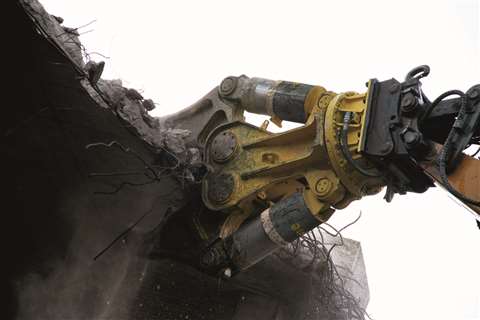 The CB 5500 is part of the Concrete Buster range for heavy foundation work and demolition with long-front excavators
A particularly powerful attachment was required for the partial demolition of a former public administration building with integrated air-raid shelter, comprising 18,000 cu m (635,000 sq ft) of enclosed space and 4,000 t of reinforced concrete material.
Gutting and remediation with the MG 5000 Multi Grapple
First, gutting and remediation work was carried out with the aid of a MG 5000 Multi Grapple. This was followed by the demolition of a connecting bridge and the public building, including the heavily reinforced air-raid shelter.
CC 5000 demolition cutters, weighing about 5.5 t and with a jaw width of 1,600 mm (63 in) were used for above-ground demolition.
Strong walls and substantial foundations were waiting in the basement – the walls, which had been pre-slit with the HB 4700 hydraulic hammer, were finally cut out with the new CB 5500 concrete buster and prepared for pulverisation.
Concrete Buster range extends to six
The CB 5500 is part of the Concrete Buster range, which has recently been extended to include six models with operating weights from 320 to 7,400 kg (705 to 16,314 lb) for excavator classes from 2 to 85 t. The CBs have been specially developed for heavy foundation work and are said to be particularly suitable for demolition with long-front excavators.
Red Line hydraulically operated membrane type breakers from Green Attachments have been designed to perform demanding tasks including demolition applications.
Movement is achieved by the hydraulic oil pressure on the piston head and speeded up by the oil and gas load of the accumulator on the top of the piston.
The breakers are fully hydraulically operated and this guarantees reliable operation when productivity matters. They can operate in all possible positions due to long, lightweight piston and a large number of seals.
The hydraulic range consists of 19 models from 0.75 to 100 t.
Red 025 breaker hammers away on demolition jobs
The fully hydraulically operated Red 025 breaker is a very reliable and efficient hammer also for demolition applications and are a reliable choice for demolition contractors due to minimum service and strength.
Green Attachments' Yellow R rotating hydraulic pulverisers are suitable for the secondary demolition phase as well as for the primary demolition of reinforced concrete structures. The geometry of the pulverisers' hydraulic rotation and straight design allows easy operation in demolition and at ground level.
The robust structure of the pulveriser with fast and powerful performance allows efficient demolition, the most typical are reinforced concrete structures. Yellow R pulverisers design has been made according to customer needs for a light and durable structure combined with high power and efficiency.
Yellow R pulverisers benefit from rotating design
Yellow R pulverisers are said to be suitable also for the primary demolition of reinforced concrete structures due to their rotating design. Green Attachments says that after the demolition application, pulverising and even cleaning the area can be done by rotating pulverisers.
Vibratory compactors are often used at places that are hard to reach. Bridges, quay walls or working from a pontoon are rule rather than exception. Mobility and manoeuvrability of the excavator in combination with the vibratory hammer is therefore essential.
Netherlands-based manufacturer Dehaco says the impact force of a vibratory hammer is created by turning an eccentric, or an unbalanced weight. Working with a vibratory hammer that is equipped with two eccentrics, they always rotate in opposite directions. This keeps horizontal movement to a minimum, which gives "calm" in the boom, while an optimal vertical force is released when both weights press down simultaneously.
Dehaco examined the idea of combine these positions into one vibratory compactor, so one tool would work in both cases.
Separate motors for the Hyrax series
In the Hyrax series, the two eccentrics are separately driven by two separate motors without gear transmission. Dehaco says this makes this system much easier to maintain, and directly provides an overpressure protection, volume control outlet function to protect the motor and a connection protection for the press and return line.
Genesis Attachments has added a new model of demolition shears to its Razer product line.
Designed for high-reach applications, the GDT 590 has a jaw opening of 52 inches, a jaw depth of 46.5 inches and a reach of over 3.7 metres (12 ft).
Suitable for use with standard and most high-reach excavators, Genesis said the GDT 590 made the Razer line more versatile, allowing it to meet customer needs in applications such as bridge demolition, concrete recycling and C&D processing.
Article first published, with additional content and images, in the August-September 2020 issue of Demolition & Recycling International
MORE ARTICLES FROM CONEXPO-CON/AGG 365 NEWS