Demolition Contract of the Year under US$1 million
Winner Liberty Industrial
Country Australia
Project Hanson Blackwattle Bay concrete batching plant demolition
Also shortlisted
Apex Demolition and C&D Demolition Consultants (United Kingdom)
Despe (Italy, two entries)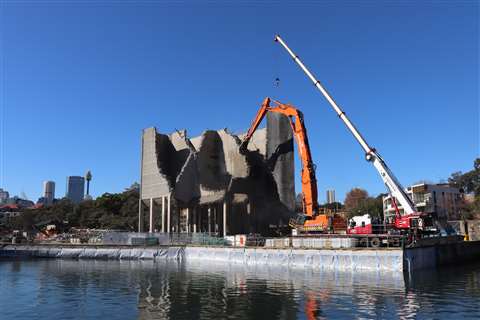 Having made the shortlist in this category in 2019, Liberty Industrial went one better this year.
The project involved the removal of a harbourside concrete batching plant, including the demolition of a large reinforced concrete aggregate storage bin situated on the site boundary, a concrete batch plant located at the far end of the wharf and the removal of the interconnecting conveyor systems.
Most of the works were carried out with a 200 t high reach demolition excavator with a reach of 36 m (118 ft), and a 48 t high reach demolition excavator fitted configured for 24 m (78 ft) of reach.
Loading restrictions associated with the operation of heavy machinery on the wharf meant that the works had to be executed in a highly choreographed sequence with limited movements for both machines and only a single angle of approach for the 200 t excavator.
MORE ARTICLES FROM CONEXPO-CON/AGG 365 NEWS