Doosan Infracore completes first battery pack prototype
By Mike BrezonickMay 10, 2021
Doosan Infracore announced it has completed manufacturing of the company's first prototype battery pack, a move it said will accelerate its battery pack business and the development of electrified products.
The company, which makes construction machinery including Bobcat compact equipment, has been promoting its development of battery packs after reviewing the feasibility of the Electric Powerpack business last year. With this prototype, it is expected to produce its first battery-powered 1.7-ton electric excavator early next year after undergoing equipment mounting tests.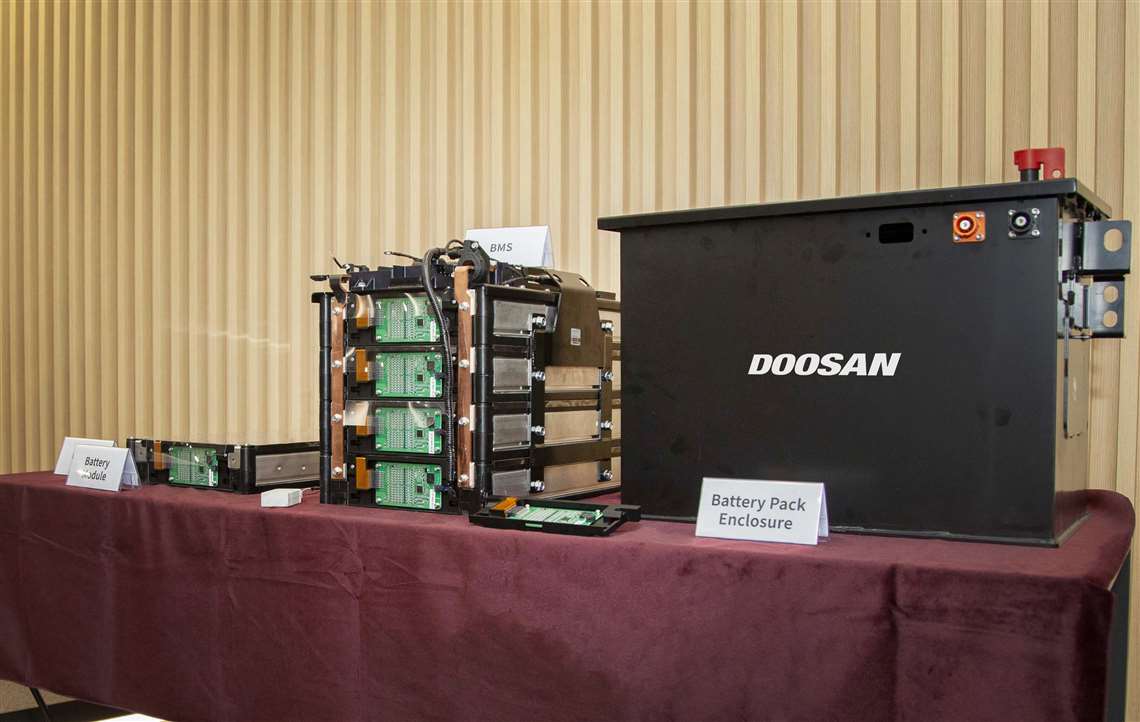 The battery pack is the form of a battery system installed with an electric motor. Various control and protection systems, such as the battery module, battery management system (BMS) and cooling system, are included. A number of battery cells are bundled into a frame together as a single unit.
Doosan Infracore said its battery pack has the advantage of a flexible design using standardized cylindrical battery cells that can be configured to meet specific capacity and voltage requirements.
The battery management system also applies a standardized and common design, making it possible to configure a battery pack with up to 32 modules for either series or parallel installations. A structural adhesive is used to connect the battery cells and a wire bonding technology is applied electrically to improve energy density and stability, the company said.
A Doosan Infracore official said that "it is possible to install battery packs on all equipment that can move with electricity, such as construction machinery, agricultural machinery, golf carts, etc." The official added that the battery pack business is "aiming for annual sales of more than 500 billion won (approximately $450 million) in 2030."
Doosan Infracore has already developed a mild hybrid powertrain technology as an intermediate step between the internal combustion engine powertrains and full electrification. The hybrid powertrain, equipped with an electric motor and a battery in an internal combustion engine, can improve fuel economy and output and reduce carbon emissions, the company said. The 48 V mild hybrid powertrain was selected as a 2020 Notable New Product by Diesel Progress magazine.
"As the leading engine company in Korea, we have developed a variety of engines, including vehicles, ships, industrial and defense engines, and are exporting to Germany, the home of the engine, and to Europe and China," said Dong-Yeon Son, president and CEO of Doosan Infracore. "In the midst of a huge paradigm shift, we will accelerate the development of hybrid powertrain and electrification technology to establish ourselves as a global engine market leader."
MORE ARTICLES FROM CONEXPO-CON/AGG 365 NEWS