Falsework & formwork: digitalization spearheads innovations
By Jenny LescohierAugust 31, 2020
Architects seemingly know no bounds when it comes to building design. The world's premier cities are dotted with the innovative creations of inspired geniuses whose ideas have been brought to life by people and equipment whose job it was to ensure the designs could be executed safely and efficiently.
The falsework and formwork involved in the construction of today's most innovative building designs is itself getting more advanced, thanks to the same technology responsible for so many of the changes occurring in the construction process.
Digitalisation is being increasingly integrated in many facets of construction, with falsework and formwork no different. Rightly so, because nothing else optimises project planning so effectively, while opening up enormous potential for both transparency and cost savings.
Increased efficiency from Building Information Modelling (BIM)
The use of Building Information Modelling – BIM methodology – along with its associated tools, represents one of the most significant technological developments in recent years, transforming the design of scaffolding and formwork solutions.
"The comprehensive digitisation of our warehousing system now allows us to connect directly with the client's worksite and monitor progress, adjusting material supply to maximise productivity and reduce expenses," states Ander Ollo, marketing director, Ulma Construction. "We are also working with laser scanner technology that will allow us to precisely adjust our scaffolding design to the true dimensions of restoration projects."
The methodology made possible by BIM represents a radical shift in the construction process, seamlessly integrating all stakeholders in the planning process from start to finish.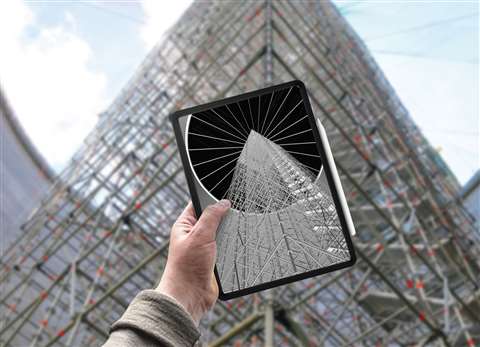 "The interaction between the physical elements onsite – the materials – with our digital tools, allow us to design projects based on exact 3D models," adds Ollo. "And we can work more efficiently, in stages with detailed lists that precisely meet real needs onsite. Improvements in engineering and logistics also improve productivity and safety throughout the project."
Laser scanner technology streamlines the data point collection process, drastically improving precision. Ollo says that, as a result, it's possible to measure the exact distance between any two points at any time and design the scaffolding with a point cloud generated for the renovation of any building or structure, adjusting whenever necessary.
BIM is gaining in acceptance, supported by legal guidelines such as European Directive 2014/24/EU, which requires the use of BIM for all public building and infrastructure tenders, while offering a range of benefits for any construction project.
"Digitisation is key in the development of BIM tools," Ollo says. "It allows for realistic 3D models from which formwork and/or scaffolding projects can be designed, as well as online oversight of the project and worksite as it progresses."
Staying with the theme of technology, Doka has launched DokaCAD for Revit, its software for automated formwork planning.
Efficient formwork systems have a significant influence on the success of a shell construction project, which requires correct and reliable formwork planning and optimal cycle planning. BIM software can be used to simulate situations and determine the optimal construction sequence before the project even begins.
The BIM model for the shell must provide a detailed representation of the formwork. Doka has its own BIM competence centre to ensure successful BIM implementation. The company adds that it works closely with architecture, engineering, and construction partner Autodesk to create BIM-compatible building models.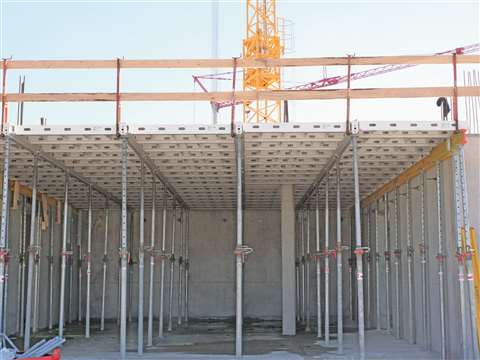 Legal standards increasing for construction
Talking about changes to the sector, Roland Hassert, head of construction applications engineering at Layher, comments that, "Wage costs are increasing as well as legal standards. Therefore, provisional solutions are often no longer accepted. With our Layher Allround Scaffolding system, scaffolding, safety and efficiency are not contradictions. On the contrary, a major factor in improving safety as well efficiency is digitalisation."
Hassert says the Layher SIM (Scaffolding Information Modeling) system is a process based on 3D models to meet the specific requirements of scaffolding construction.
"SIM not only allows you to plan, assemble and manage temporary scaffolding structures more efficiently, but also affords access to BIM at the same time," he says, noting, "with the integrated Layher software solution LayPLAN SUITE, you have a tool for the SIM process. LayPLAN CLASSIC facilitates a start in digital planning by allowing automated planning of predefined scaffolding applications – and if required even with temporary roof structures."
Dependable 3D planning of scaffolding structures without collisions is just one of many benefits. There is also the realistic visualisation of scaffolding, allowing work to be coordinated with other trades or construction sequence simulation, the transfer of the scaffolding planning to structural analysis programs, and the output of material lists and assembly plans.
"Transparency at every step results in a reduction in costs and an increase in safety and profitability," Hassert says.
Focusing on the specific sector of modular slab formwork systems, key factors for this segment are ease of cleaning, ergonomics and low weight. With the development of the MevaDec, Meva aims to fulfill these requirements and offers a new generation of this smart system.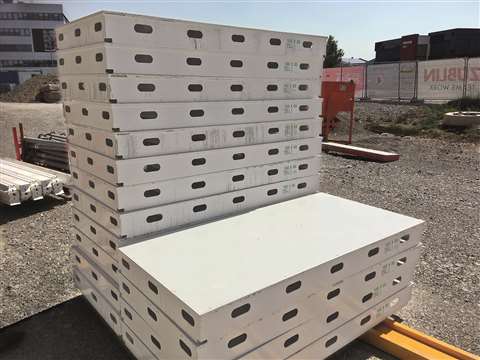 Currently in use for the construction of a three-storey office building in Waldmössingen, Germany, with additional slab areas in an adjacent factory building, the improved cross-section of the new MevaDec edge profile and the modified primary beam groove reduce the concrete adhesion to a minimum. In addition, the new generation has optimised handling properties with integrated grip profiles and low weight. The company says it's also easy to clean.
"Early stripping and the resulting reduction of material stock on the construction site provides us with clear benefits in terms of rapid construction process," says Sascha Grübel, site manager at the Waldmössingen building project.
As timelines and budgets contract, the twin concerns of safety and efficiency have never been more important.
"Safety and efficiency have always played a major role on construction sites, but have become even more important, particularly when it comes to upward access – and not just for regular shoring constructions," says Hassert. "Customers are looking for more versatile solutions, for instance shoring constructions including work platforms."
Hassert says, for example, that Layher Allround Scaffolding consists of just three basic components: standards, ledgers and diagonal braces. For further tasks, Layher also supplies matching supplementary components, including the Allround Shoring Frames TG 60 for an efficient system.
"Uniform system dimensions make all our new products, generally speaking, combinable with existing components of the Layher product portfolio – including earlier product generations," he says. "This ensures that investments are protected, one of the strengths of the integrated system."
Supplementary components can be safely planned using Technical Documentation and the LayPLAN SUITE scaffolding planning software.
Innovative falsework and formwork solutions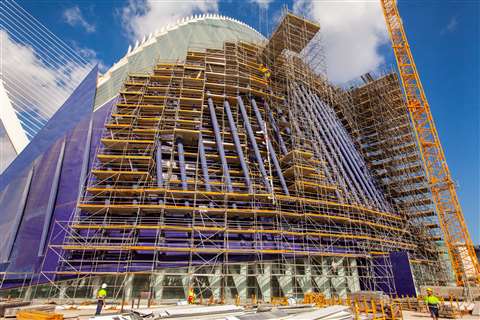 Apart from digitalisation, falsework and formwork suppliers are devising ways to make working with their systems simpler.
RMD Kwikform has launched Tetrashor, a lightweight modular propping system that can deliver a loading capacity of up to 400kN. The system was designed for the building refurbishment and civil engineering markets, finding applications in dead shoring, façade retention, propping and needling, supporting precast concrete bridge beams and structural steelwork frames, and restraining tall single and double-sided formwork.
The system's 400kN loading capacity means a minimum number of props are required, helping to reduce costs and assembly time for contractors. At the same time, it has been designed with lightweight components, so the product can be easily carried by workers, without the need for a crane.
"When superior prop strength is a key requirement, the compromise is generally a heavier system that is more difficult to manoeuvre," says Ian Fryer, divisional product innovation director at RMD Kwikform. "Conversely, lightweight but less strong systems often require more materials to meet loading capacities, adding to erection times and costs.
"With Tetrashor, there's no need to compromise. It provides a safe, cost-effective and efficient solution, helping to overcome common industry challenges by supporting heavy loads, while also improving productivity through its versatility and design. For instance, less bracing is required on longer props than alternative solutions, helping contractors to keep costs down."
Finally, all of these innovative solutions and digital advancements are made to be used on projects, and one eye-catching project currently underway is Katara Towers in Qatar. Due to be ready for the 2022 football FIFA World Cup, Katara Towers, which will be just over 200m high, will contain hotel rooms, apartments, offices, leisure facilities and restaurants.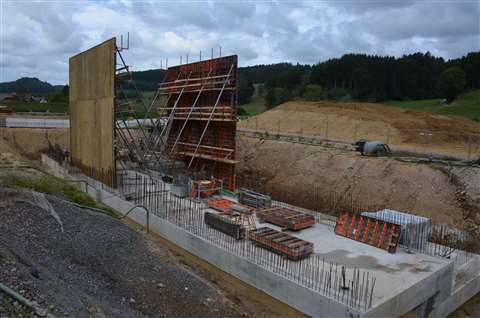 For erecting the core walls in the towers, climbing formwork systems from Doka were used. The completed silhouette of Katara Towers, rising from the southernmost point of the 38km² planned city of Lusail, Qatar, aims to become a landmark for the nation.
"Our vision for Katara Towers is to set new standards that go beyond the borders of the hospitality industry and will provide an architectural landmark that is instantly recognised and understood right across the globe", said Sheikh Nawaf bin Jassim Al Thani.
The tower, scheduled for completion in May 2021, is structurally divided into five areas and has a total of eight core walls. The central component of the project is a pair of symmetrically arched towers. They cover an area of 2,315m², rise 36 storeys into the sky, and the clear height of the slabs ranges from 4.45m to 9.15m.
According to Doka, the biggest challenge arising from the structural design was to install the formwork on the protruding slabs while adhering to the construction schedule. Doka's table lifting system TLS was used to accelerate the slab cycle, moving the Dokaflex tables in the two high-rise towers two storeys upwards. Due to the inclined façade of the building, the table lifting system had to be modified.
Falsework and Formwork rental?
Managing director of Paschal talks about the future of the sector
The Covid-19 pandemic is expected to increase rental penetration in the falsework and formwork sector, according to Michael Stoevelbaek, managing director of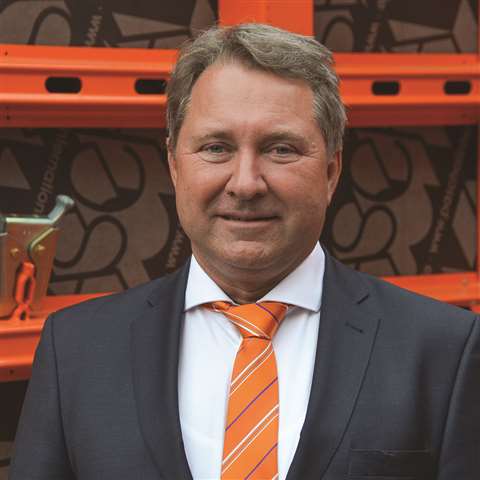 Germany-based manufacturer Paschal.
"The trend towards rental is growing, and it will be helped by the financial crisis caused by the coronavirus pandemic. People will see the financial sense of rental," says Stoevelbaek.
Pandemic aside, Stoevelbaek says the continuing growth of rental will also be driven by the fact that projects are increasingly differentiated and therefore different types of formwork are required from one job to the next.
"A benefit of formwork compared to pre-fabrication is that it can make interesting or unusual structures," says Stoevelbaek.
Paschal has five depots in Germany, plus its head office, and it works with a network of 30 partners to give coverage across the country. About one third of those partners offer rental. Paschal has operations around the globe in 18 countries in total.
'Folded' design presents challenges
Custom formwork and climbing solutions used at Gioia 22 in Milan
Gioia 22, the 30-storey, 120m tower being constructed at the heart of the Porta Nuova district in Milan, Italy, features a characteristic folded shape, which is said to have ecological significance. Slated for completion later this year, Peri provided support during construction using a combination of custom-made formwork and climbing solutions.
The design consists of a main core with 26 floors and a secondary core with 13 floors. The special feature: from the second floor upwards, the tower starts to fold in on itself so the slabs become wider with each passing floor. A project-specific combination of different systems was required to create the unusual shape of the building.
The construction work had to be completed as quickly as possible to meet tight deadlines. For these reasons, the decision was made to combine the Peri Skydeck Slab Formwork with an additional RCS P System Solution to realise the slabs from the second floor upwards. Systematic erection sequences and lightweight system components made it possible to complete an entire floor in a week, according to reports.
Characteristic features of the building are the 17 round columns of which seven are inclined. They were erected using SRS Circular Column Formwork. The diameter of the columns vary between 1m and 0.8m, becoming smaller with the increasing height of the tower.
The process of connecting the main core of the building to the secondary core was a key technical challenge. To achieve this, the first RCS Climbing Unit was installed using
vertical as well as laterally inclined climbing rails. The cantilevered section of the roof slab on the 25th floor, which,
at 10m, is twice as high as the other floors, was implemented with the aid of Peri UP Flex Shoring Towers.
MORE ARTICLES FROM CONEXPO-CON/AGG 365 NEWS