Foundations: can we learn from the Europeans?
By Mike HayesOctober 19, 2020
Foundation drilling has become a more exact science in recent years. We look at latest innovations
What goes up in construction, always starts by going down. Foundation work is the first element of a project that absolutely has to be done right which is why the technology on-board the latest foundation drilling rigs is increasingly sophisticated.
This is not about digging holes; it's about securing pillars for bridges, making skyscrapers earthquake proof, or shoring up the ground to allow excavation work to proceed.
In the case of Bauer, it's also about water retention… in the shape of a 6m-deep, 22m-wide reservoir in the French city of Riedisheim.
To construct 96 piles for the reservoir, the main contractor, Durmeyer, used a Bauer BG 36 foundation drilling rig with a Bauer twin rotary system. The method used – with the twin rotary system operating with a torque multiplier, was developed by Bauer and was being used in France for the first time, to construct 96 piles with diameters of 880 to 900mm.
The technique combines a continuous flight auger (CFA) method of drilling with provisional casing, resulting in a cased borehole.
Perfect verticality
Tim Lämmle, managing director of Bauer Machines, the French sales subsidiary of Bauer Maschinen, said, "This method is particularly advantageous in areas with high groundwater and soil that are in danger of being lifted, and require drilling under water load during Kelly drilling."
For the reservoir project, the casing used in the twin rotary system meant that erosion of soil underneath the train tracks could be avoided and perfect verticality of the piles could be guaranteed.
Vincent Keller, dirécteur général at Durmeyer, said, "There were a lot of challenging aspects in this project in Département Haut-Rhin. The space was very confined and there were also train tracks located very close to the drilling operations.
"In addition to this, we also needed to make sure that the groundwater was sealed off during the entire operations. All these issues and also the fact that the construction soil contained stones over 25cm in diameter, made us decide to use the twin rotary system method with a BG 36 from Bauer."
Keller added, "Because the method can be used with many different soil conditions and the BG 36 is so compact compared to its performance, we also see plenty of possible future applications,"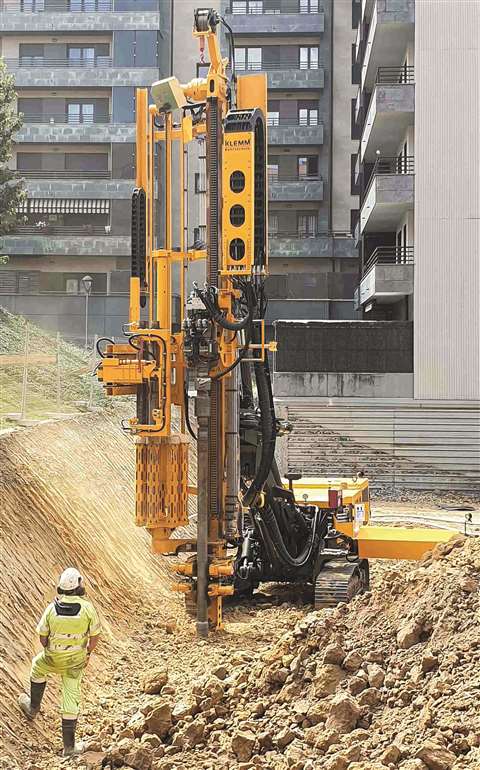 Safe material ejection
Despite a more complex installation, compared with Kelly drilling or drilling with a hollow stem auger, Keller said the efficiency and safety aspects of the Bauer rig were also factors in the company's choice.
He said, "In particular the material ejection system, with chute and drilling bucket, offers our employees a high level of safety and comfort. It's impressive how safe working on a construction site can be these days."
At the ConExpo exhibition in Las Vegas in March, Klemm Bohrtechnik launched its new KR 806-4GM drilling rig. Since then, a number of rigs have been used on major US-based projects.
The first time the rig was used in Europe was in the port city of Bilbao, Spain, when Tecimasa brought one on board for a new building project, which included an underground car park.
Anchor holes were required with a casing diameter of 152mm and a depth of between 9 and 12m.
Conditions are often difficult for machines working on tough projects, but with an ambient temperature of around 40 degrees Celsius in a Bilbao summer, the operators were also feeling the heat.
The Klemm rig was equipped with a manipulator and its revolving magazine (Mag 6.1) and drilled rods into the ground with a down-the-hole hammer.
The new 806 can, in fact, handle casings with a maximum diameter of 178mm and the usable length of the pipe pairs is 3,000mm.
It allows the installation of heavy double heads for drilling in rotary/rotary-percussion mode and in rotary/rotary mode. Powerful hydraulic hammers can also be used.
The hydraulic system uses two load-sensing primary pumps, each with a flow rate of 240 litres per minute and operates at pressures of up to 350 bar.
The rig has a newly-developed kinematics system and, with a net weight of approximately 2.19 tonnes (without its pipes), it allows for a maximum magazine load of 1.1 tonnes.
The Mag 6.1, says Klemm, is an upgrade of the Mag 7.0, and features a rotatable drum, ensuring the operator always has a view of the drill rod to be positioned.
As with the previous model, the new 806 boasts a Volvo-Penta diesel engine with an output of 160kW.
Piling with electric power
We seem to have been talking about Liebherr's ground-breaking (pardon the pun) LB 16 Unplugged electric foundation drilling rig for a very long time. Yet, the machine has only recently been put to work in the field, so to speak.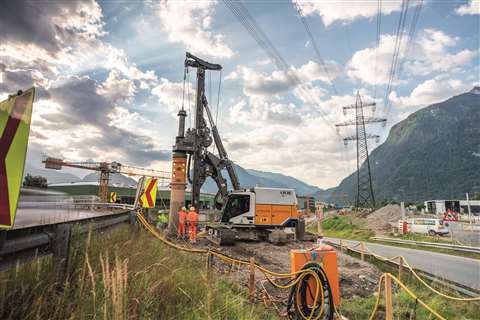 The Unplugged rig is operating in Austria, on one of the largest roadwork sites in the country.
The Bludenz-Bürs junction of the A14 motorway has been a traffic hotspot for some time and ASFINAG was awarded the main contract to build a large roundabout and two bridges, as well as two new connections to regional roads, to counter the problem.
ASFINAG brought in local firm i+R to carry out the piling work, and i+R turned to Liebherr and the LB 16 Unplugged, due primarily to the restricted-height and narrow footprint workspace, but also due to the environmental benefits offered by the zero-local-emissions machine, something that appealed both to i+R and to ASFINAG.
Sustainable drilling
Andreas Fromm, managing director of ASFINAG Bau Management, said, "Sustainability in the construction industry is not a foreign concept, but common practice for ASFINAG. Innovative developments like the world's first drilling rig with zero emissions show that also on ASFINAG construction sites there is enough room for environmentally friendly construction practices."
The LB 16 Unplugged is tasked with placing the pile foundations directly beneath a power line. Yet, the 148 piles must have a depth of between 10m and 14m. With this in mind, the rig is designed as a low head and casing pipes with a shorter (2m) length are also being used, with reinforcement cages inserted in sections.
At present, the rig is installing approximately two piles per day, with, according to Liebherr, the same performance as its conventionally-powered version. The battery is designed to last one working day (10 hours) and can be charged overnight using a standard construction site electric supply (32 A, 63 A).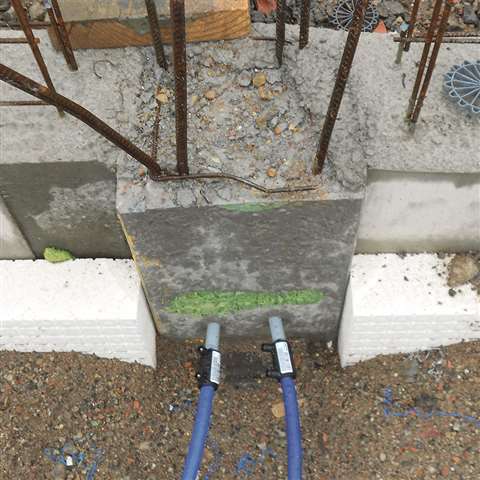 Apart from the lack of emissions, workers on site say they have been impressed by the significant reduction in noise pollution from the new rig.
Site foreman Sebastian Timpe said, "You don't have to shout all the time. You can talk normally and your colleague hears, even when standing further away. Otherwise, when the engines are running at full power, they are very loud and you always have to raise your voice, which is a burden in itself. You also don't hear little things in the surrounding area, which you do now during ongoing site work."
Liebherr's innovative electric rig took a lot of people in construction by surprise, especially given the early drive towards electrifying much smaller site machines.
The foundations-drilling rig sector is, it would seem, more forward thinking than many previously believed.
The same can be said for the piles themselves, with the development of energy (or heat exchanger) piles, equipped with pipe circuits that enable the exchange of heat with the soil surrounding the pile itself.
New energy storage
In Vejle, Denmark, piling specialist Aarsleff Ground Engineering has installed 220 energy piles prior to the construction of Rosborg Hall.
The piles will supply the space heating needs of 3,400m2 and two piles are instrumented with temperature sensors to monitor the pile temperatures over time.
The heat pump consists of a water-to-water unit with a nominal heating capacity of 200kW and two compressors.
The heat pump charges a water accumulation tank from which a traditional radiator-based heating system is supplied.
The control and monitoring system collects historic data of the main parameters affecting the performance of the installation – namely the inlet/outlet temperatures and flow rates in different loops, as well as local temperature measurements, electricity consumptions and heat pump status.
The monitoring of the parameters will allow the analysis of, among other things, the overall seasonal heating performance factors and the total heating and cooling needs of the building.
This type of case study is very relevant to develop this relatively new technology.
Aarsleff Gound Engineering says it is driven to support the utilisation of renewable resources within the construction industry and it insists energy piles offer a good opportunity to achieve this goal.
Piling into the future
Junttan's X-series rigs have integrated control systems for monitoring and reporting
In Grünheide, near Berlin, Aarsleff is involved in an exciting Giga Factory project. When complete, the high-profile factory will produce batteries for a leading brand of electric vehicles.
Most of the piling work for the factory has been undertaken using two Junttan foundation drilling rigs: a PMx24 and a PM26.
A particularly strong foundation for special factory segments was specified and the rigs installed pre-cast piles manufactured by UK-based Centrum.
The Junttan PMx24 is a member of Junttan X-series, which has a leader capacity of 18,000 kg and is capable of carrying hammers weighing up to 7 tonnes.
Junttan's X-series rigs have integrated control systems for monitoring and reporting, such as GPS positioning for piles, wireless piling data transfer and Junttan Fleet Management software.
The series also boasts newly-developed hydraulics which, in combination with Junttan's control systems, promises enhanced productivity and reduced fuel consumption.
The SHAPE of tech to come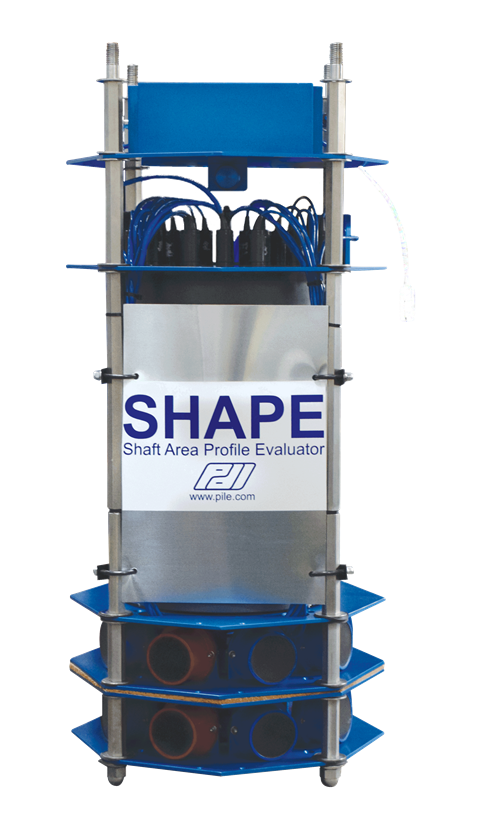 Pile Dynamics' Shaft Area Profile Evaluator
US-based Pile Dynamics Inc, or PDI, introduced its Shaft Area Profile Evaluator – or SHAPE – to the construction market a couple of years ago.
Since then, the device has been making regular appearances on major sites worldwide. SHAPE uses ultrasonic waves to examine bored piles, drilled shafts, slurry walls and so on, reporting on their verticality and any irregularities in their profile.
Completely wireless, SHAPE can be simply connected to a Kelly bar or used with a top-mount winch system, then lowered at a rate of approximately 300mm per second and will rapidly deliver 3D profile views.
George Piscsalko, President of PDI, said, "We felt the market needed a modern and rugged device where we eliminate common points of failure such as electronic cables running from the surface to the device to provide increased accuracy and performance."
 This article originally appeared in the October 2020 issue of Construction Europe magazine.
Register here for a free subscription to the digital magazine, with additional rich media.
MORE ARTICLES FROM CONEXPO-CON/AGG 365 NEWS