Hydrodemolition: pushing the boundaries in Manitoba
Hundreds of kilometres north of Winnipeg in Canada, the Keeyask Generation Project is being constructed on the lower Nelson River.
The 695 MW hydroelectric generating station, scheduled for completion next year, will be a source of renewable energy, producing an average of 4,400 GWh of electricity each year. Throughout its construction, now in its seventh year, the project has managed several location-specific challenges.
One such challenge occurred when water in a 61 cm (24 in) pipe in the intake froze, damaging a 2.4 m (8 ft) thick concrete pier.
To minimise impact to the overall project, Keeyask managers opted to use hydrodemolition to remove the damaged section.
Achieving 80% water recycling with hydrodemolition technology
Water Blasting & Vacuum Services, a Canadian industrial cleaning specialist, secured the contract based on a plan that provided the efficiency to complete the 140 cu m (4,944 cu ft) removal work on time and recycled nearly 80% of the water, using Aquajet's robotic hydrodemolition technology on the project.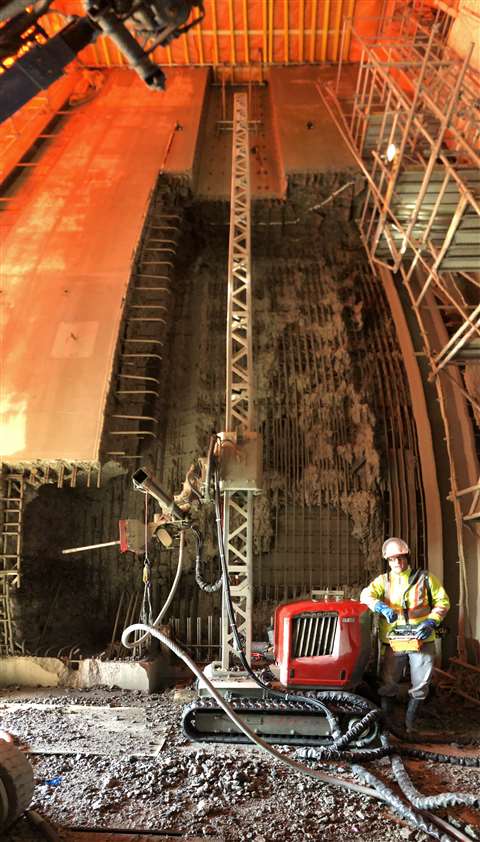 "The safety of our team members has always been paramount," said Luc Laforge, the president and owner of Water Blasting & Vacuum Services.
"Many industrial cleaning applications require long hours in confined spaces and specialised personal protective equipment, like forced air systems and chemical protective suits. We wanted to take advantage of any opportunity where we could send in a machine instead of a person."
Working with an original equipment manufacturer
While its first hydrodemolition machines were bought used and converted in-house to meet the cleaning challenges of mills and other industrial facilities, the company moved towards working with an original equipment manufacturer to increase precision, safety and efficiency.
"Our old equipment kept the team safe and got the job done, but with most plants slowing down for routine maintenance during the same few months, we needed to find a way to maximise efficiency," Luc said. Using the Aqua Cutter 410A and additional Aquajet equipment, including a 710V, allowed Water Blasting & Vacuum Services to branch out into hydrodemolition, hydromilling and other applications, increasing its service offerings and opened the door for more challenging projects.
A specialised solution for an unexpected job
That reputation put Water Blasting & Vacuum Services on the shortlist for a local hydroelectric company in need of a specialised solution for an unexpected concrete removal job that threatened to delay the project.
"This was a very intriguing project – the first of its kind," said Maurice Lavoie, general manager at Water Blasting and Vacuum Services and site manager for the project.
"The pier was solid concrete, 2.4 m (8 ft) thick, 12 m (40 ft) wide and 9 m (30 ft) tall at the highest point.
"A portion of the structure needed to be removed and repoured. Very few companies in the world had used hydrodemolition to vertically remove concrete that thick. But that was just the start when it came to the complexities and challenges of this job."
Limited access in a challenging location
Location was another key challenge. The construction site was around 4,000 km (2,500 miles) from the contractor's headquarters in Edmundston, New Brunswick, and 725 km (450 miles) north of Winnipeg, Manitoba.
Limited access needed to be carefully factored into any proposed solution.
While project managers could provide access to water, power or other general construction supplies, getting equipment or replacement parts presented a time-consuming challenge.
Contractors needed dependable equipment and a fully stocked toolbox to limit any unnecessary downtime.
"On top of that, we would be dealing with temperatures that could easily get down to 40 below zero," Maurice said.
"You had to have a lot of confidence in your team and your equipment to even submit a bid for the work."
The impact of strict environmental controls
Strict environmental controls also limited contractors' application choices. The project partners, known as the Keeyask Hydropower Limited Partnership – which includes four Manitoba First Nations and Manitoba Hydro – had made environmental protection a cornerstone of the overall project.
So, while the original brief specified hydrodemolition as an acceptable process, the contractors would need to ensure all wastewater was properly collected and treated.
The Aquajet EcoClear water filtration system, in combination with Water Blasting & Vacuum Services' extensive experience and expert logistics, allowed the contractor to present a solution to project managers – one that promised maximum productivity while minimising resource consumption and protecting the environment.
An alternative to hauling wastewater
Water Blasting & Vacuum Services purchased the EcoClear system as a more efficient and cost-effective alternative to hauling wastewater with vacuum trucks for off-site treatment.
The system neutralises water pH and reduces turbidity to allow safe release back into the environment.
It has the capacity to move up to 88 g/min, or about 20 cu m (5,238 gallons) per hour.
However, for the hydroelectric power project, rather than treating and releasing the water, Water Blasting & Vacuum Services proposed using the EcoClear as part of a closed loop system that would recycle the water back to the Aqua Cutter 710V.
It would be the company's first time using the EcoClear to recycle water on such a large scale, but Lavoie and his team were confident the EcoClear and 710V would make the perfect pair to tackle the challenging application.
Sub-zero temperatures on the jobsite
Water Blasting & Vacuum Services arrived at the jobsite in March 2018. With temperatures averaging -29° C), a hoarding system and heaters had to be set up around the demolition site to provide shelter and keep the pumps operating.
In addition to the EcoClear system and 710V, the contractor used a spreader bar and additional tower sections to maximise the hydrodemolition robot's reach from the standard 7 m (23 ft) to 12 m (40 ft). An extension kit allowed the contractor to make a 3.6 m (12 ft) wide cut as well.
These enhancements greatly reduced the downtime frequent repositioning would have required. Additionally, Water Blasting & Vacuum Services employed lance sections to increase efficiency and allow the 2.4 m depth required.
Steve Ouellette, lead supervisor at Water Blasting &Vacuum Services, was put in charge of the closed loop system with two 95,000 litre (21,000) gallon tanks providing water to the Aqua Cutter 710V. Wastewater was directed to a low point then pumped to the EcoClear.
Pumping water back to the holding tanks for reuse
Once the water was treated, it was pumped back to the holding tanks for reuse. In a 12-hour shift, Water Blasting & Vacuum Services removed an average of 4 cu m (141 cu ft) of concrete and used an estimated 182,000 litres (40,000 gallons) of water.
Of this, roughly 20% of the water was lost during the hydrodemolition process due to evaporation and absorption. However, Water Blasting & Vacuum Services was able to collect and recycle the other 80% – 145,000 l, or 32,000 gal – with the EcoClear system. During the project, it processed over 5.9 million l (1.3 million gal) of water.
Water Blasting & Vacuum Services worked with project managers to integrate demolition into the complex timeline of the overall project, completing the work in two multi-week phases.
"Projects like that are once in a lifetime," Luc Laforge said.
"Thanks to a dedicated team with the experience to take on the impossible and innovative equipment, we were able to find a solution that allowed us to push the boundaries of hydrodemolition.
Article first published in the August-September 2020 issue of Demolition & Recycling International
MORE ARTICLES FROM CONEXPO-CON/AGG 365 NEWS