Largest hard rock TBM built for US
By Leila SteedJanuary 09, 2020
Tunnelling equipment manufacturer The Robbins Company has finished the assembly of what it describes as the largest hard rock tunnel boring machine (TBM) in the US.
Named 'Big Tex', the Robbins Main Beam TBM was designed with a diameter of 11.6m and, thanks to its a dual-diameter aspect – and a conversion process that is believed to be the first-of-its kind – can even reduce its diameter to just 9.9m partway through tunnelling.
Designed for joint venture company Southland/Mole, Robbins said that the unique TBM will be used to excavate an 8km long drainage tunnel, comprised of two different diameters, as part of the Mill Creek Tunnel Project.
The project aims to provide 100-year long flood protection for the east and southeast regions of Dallas in the state of Texas, for which 'Big Tex' was named.
"The completion of the TBM assembly marks a major milestone in the Mill Creek Tunnel Project," said council member Lee Kleinman, chair of the Transportation and Infrastructure Committee for the City of Dallas. "I'm thrilled to see this type of engineering marvel happening right here in Dallas."
The adaptable machine will change size partway through the bore, to a more compact 9.9m in diameter.
The dual-diameter aspect of the TBM comprises a specialised cutterhead with removable spacers and adjustable bucket lips. According to Robbins, contractor Southland/Mole will make the conversion to the smaller diameter underground at approximately 2.8km into the bore. This will be done after the machine has completed the drilling of the 11.6m diameter section.
The company said this will create as "upstream section of the tunnel is designed with a circular cross section and peak flow rate of 42m3/sec, while the downstream 2.8 k portion has a higher peak flow of 565m3/sec."
Excavation of the Mill Creek Drainage Relief Tunnel will see the TBM in operation for 24 hours a day. It will bore through 25m of Austin Chalk day, at depths ranging from 31 to 45m below the city of Dallas.
The project is due for completion in 2023.
.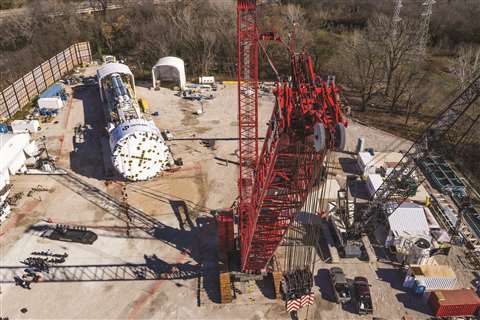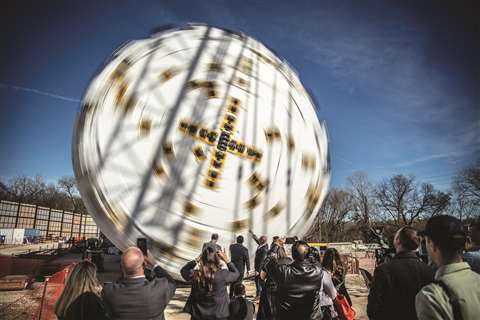 MORE ARTICLES FROM CONEXPO-CON/AGG 365 NEWS