Liebherr's latest dump truck
By Andy BrownNovember 03, 2020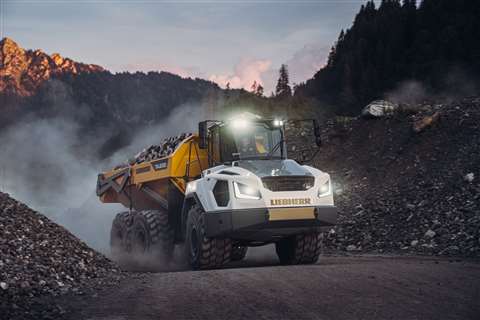 Liebherr has launched a new version of the TA 230 Litronic, said to be the first representative of the company's new generation of articulated dump trucks. It will be available in Europe in 2021 and then worldwide from 2022 onwards.
The TA 230 Litronic is said to have been redeveloped and designed with state-of-the-art technical implements. The dump truck has a new design in the front end area to create maximum ground clearance for off-road performance.
The powershift transmission is positioned compactly under the operator's cab and the exhaust gas aftertreatment is installed behind the operator's cab in a space-saving manner, whereby a large slope angle could be generated.
A 6-cylinder construction machinery engine with 12 l displacement and 265kW/ 360hp is installed, which complies with the requirements of exhaust emissions standard V. A drivetrain with automatic 8-speed powershift transmission ensures optimal force distribution.
With the actively controlled longitudinal differential locks, automatic traction control is also available for the TA 230 Litronic: As soon as slip occurs at an axle, the torque is transferred to the axle or axles with traction. 
The large and robust trough of the new TA 230 Litronic is designed for the effective transport of a 28-tonne payload.
According to Liebherr, the modern assist systems installed support the machine operator, thus increasing safety and comfort. Apart from a hill start assist, a speed assist is also available. With the hard stop function, the end position damping of the trough lifting cylinders can be activated or deactivated at the touch of a button. The trough lift is limited for work in a height-critical area with the aid of the height limit.
MORE ARTICLES FROM CONEXPO-CON/AGG 365 NEWS