Liebherr tests new kit on 800 tonner
By Hannah SundermeyerNovember 05, 2020
With more than ten 800 tonne Liebherr crawler cranes delivered across Europe, North America and Asia, all of the models are suitable for a variety of heavy-lift applications. The crawlers come equipped with the standard 650 tonne S head section and are used for hefty hoisting work in industry and for wind turbine erection jobs.
The new ballast trailer of the LR 1800-1.0 will soon be available for delivery

"The standard head is absolutely adequate for the vast majority of jobs," said Jens Könneker, product manager crawler cranes at Liebherr. "However, the LR 1800-1.0 is designed to produce its maximum lifting capacity in real-world conditions as it can hoist 800 tonnes with a 9 metre radius on a 57 metre boom. That gives it plenty of scope for real applications. That is why we built the 800 tonne head, and now we have tested it as well."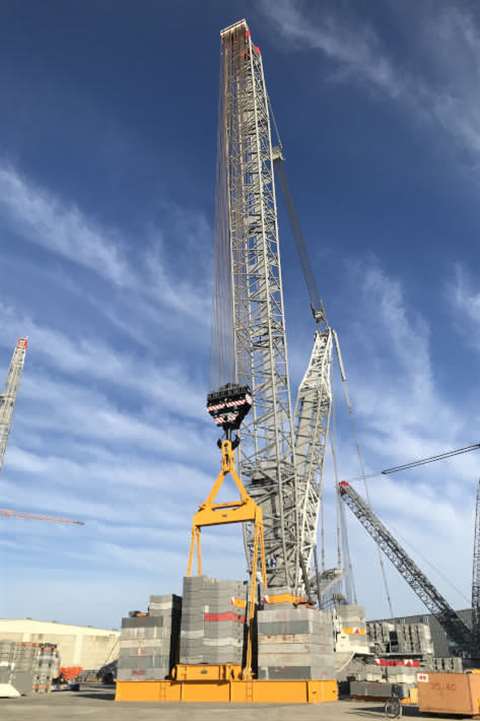 New heavy duty head – the LR 1800-1.0 is tested with a load of 1000 tonnes
For the acceptance testing procedures on crane equipment, the test loads are around 25 percent above the values in the lifting capacity table to ensure a high level of safety when the crane is actually in action. The new 800 tonne head and the new hook block to match it passed the test with flying colours with a 1,000 tonne test load.
"The new hook block can be used on both the LR 1800-1.0 and the LR 11000," added Könneker. "That is very important for customers who have both crane models. It enables them to use this block for both cranes flexibly and economically. As a result of the higher rope pull on the LR 11000, it can hoist up to 1,000 tonnes".
For the test hoist, the LR 1800-1.0 had been set up with 70 tonnes of central ballast, 170 tonnes of slewing platform ballast and 228 tonnes of derrick ballast as well as a 33 metre derrick boom. A ballast trailer was used for the derrick ballast. However, the test could also have been carried out with suspended ballast. The ballast trailer is also new and will soon be available for delivery.
MORE ARTICLES FROM CONEXPO-CON/AGG 365 NEWS