Mega tower: the Mammoet LTC4000
By Alex DahmDecember 15, 2020
Mammoet is well known as the largest heavy lift and transport company in the world with the most lifting capability and some of the biggest cranes. The largest in its fleet are super heavy lift ring type cranes with capacity of 5,000 tonnes or more.
Now a giant tower crane is joining the fleet. The LTC4000 is primarily intended for installation of onshore wind turbines for the generation of electricity. Application is also likely, however, in a wider range of sectors where construction space is limited. Examples include congested petrochemical sites, inner cities and modular power stations, Mammoet said.
Wind turbines have been getting larger with more power output, helping to improve efficiency and reduce the cost of electricity generated. Larger turbines means greater hub height and larger and heavier components. Fewer crane options are available as things get bigger. In addition to less choice, these larger cranes are unsuitable for the fast pace of installation required.
Enter the LTC4000. Its maximum hook height of 220 metres should future proof it for some time. Around 10 years ago turbine hub height was 80 to 100 metres and is now more like 175 metres. The LTC4000 can lift to more than 200 metres.
Capacity is 200 tonnes and no ties are required to the turbine tower. Lifts can be made at the relatively short working radius of 15 metres, unlike the large crawler cranes currently used. A further benefit over large crawlers, Mammoet says, is that the crane needs a smaller laydown area and is quicker to assemble and dismantle or reconfigure.
By the nature of the erection sites, high wind presents an inherent problem and interrupts erection, dismantling and lifting work. To this end the new tower crane can continue to operate in wind speeds up to 15 metres per second, Mammoet said.
Assembly of the LTC4000 is done vertically, in sections, which reduces the ground area required, usually by more than a third, the company says. With no superlift, it is designed to be moved between turbines quickly and in various configurations. A smaller footprint also means less ground preparation is need than for other types of crane.
With the engineering and design work now finalised, fabrication and certification will be done over the next 18 months. Mammoet says the LTC will be ready for work in the first quarter of 2022.
INTERVIEW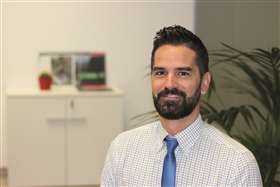 Carlos Moreno, Mammoet global segment lead for onshore wind, gave ICST the full lowdown on the LTC4000.We began by asking where the idea came from and when did work start on it.
"Work on the LTC4000 started about two years ago; initiated within the former ALE organisation at what is now Mammoet Breda. ALE came up with the idea following its success with tower cranes in 2016 in Thailand. We quickly realised the benefits of tower crane installation for the higher hub heights but felt our current tower cranes were not specifically made for the onshore wind market, and felt higher hub height capability and enhanced capacity would open a new market and would break current barriers in WTG installation.
Will it be designed and built in-house and does it carry any patented innovation?
The crane is designed in house by our innovations team in Breda, Netherlands, It will also all be manufactured in house with the help of our current service providers used for other recently developed innovations, such as the Focus 30.
What size mobile crane does it need to start it off and from then on does it build itself?
We envisage that two 300 tonne capacity all terrain mobile cranes will be used for the assembly process during boom assembly. Additionally, trailers will be required to relocate the components from pad to pad.
What are its component dimensions and its weights for transport and erection?
The crane is delivered within around 70 standard shipping containers, whose contents are then rigged to form the final crane. Once the crane is rigged for the first time, we plan to relocate it in large sections, using conventional hydraulic trailers. For the relocation process, we plan to lower the crane and take out the boom, so the tower mast sections and boom are the only large items to be transported; as all the other parts of the crane will move as one item.
What is its maximum freestanding height?
A 222 metre hook height is available, freestanding with no attachments to the wind turbine generator tower or WTG foundations. This allows the crane to erect WTGs over the barrier of 200 metres hub height, with a total capacity of 200 tonnes at a 15 metre working radius.
Can it be tied into the wind turbine tower for stability and extra height?
It could, although our design basis has always been to stay away from WTG tower or WTG foundation tie-in, to avoid re-design or re-certification of the WTG design. This has always been very important for OEMs and developers, hence our focus on developing a freestanding solution.
What are its ground preparation and foundation requirements, and will it and its foundation be available in future for re-installation for maintenance, upgrade or demolition work on the turbines?
The crane pad will need to be built to withstand 15 tonnes per square metre pressure and the pad will need to be level to a tolerance of 1.5 % over the diagonal of the base or 2 % parallel to one side of the base. We have many different crane pad designs for all types of turbine towers (steel, concrete, hybrid) and the overall area can be as low as 2,000 square metes, considering all WTG components are stored in the pad (and are not installed on a just-in-time basis).
It is important to mention that there is no boom down requirement with tower cranes, as opposed to other standard solutions, which reduces the impact and preparation required for this construction. In a normal situation, when comparing tower cranes versus other standard solutions and for hub heights over 160 metres, the savings on the dimensions of the pad can reach as much as 50 %.
How long will it take to assemble?
The entire operation taken from the moment the last WTG blade is installed up to having the crane ready to lift at the next WTG will take around 50 working hours. Working day shift, this translates to an approximate period of four to five days. However, we typically work overnight; reducing the overall period to as low as three days. These timeframes are to be considered on a case-by-case scenario though, as every site is different.
Will it be built to full height from the start or will it be raised as the tower goes up?
The idea is to raise to the final height and the install the WTG, although this is not mandatory.
How does it compare financially with large crawler cranes and large wheeled mobile telescopic cranes, from a cost of equipment point of view and from the installation and turbine manufacturer point of view?
Tower cranes, as they work at a much shorter radius and do not require boom down corridors, allow for more compact pad designs, therefore bringing huge civil works savings. This in turn means lower construction costs and a reduction in the cost of energy. This is especially true, considering the higher hub heights used in onshore wind currently. The alternative solution is large crawler cranes, 1,000 or 1,350 tonnes capacity, which are more expensive, slower in the relocation process, less available in the market, and which require much more civil work as they lift from a larger radius, increasing the required pad size. So, tower cranes bring huge cost savings for developers and WTG manufacturers.
How many do you plan to build and when – will you become a manufacturer and build and sell them to turbine companies?
We can build as many as our customers require! The initial idea is to bring one to the market though. We are not a crane manufacturer, so the idea is to innovate where we add value to the market, hence we are now actively talking to our customers about potential usage scenarios.
MORE ARTICLES FROM CONEXPO-CON/AGG 365 NEWS