New crusher from RM Group
Austria's RM Group is launching series production of a range of new products with its RM 120X crusher, which will be followed by a RM screen in 2021. It follows the original showing of prototypes at the Bauma exhibition in Germany last year.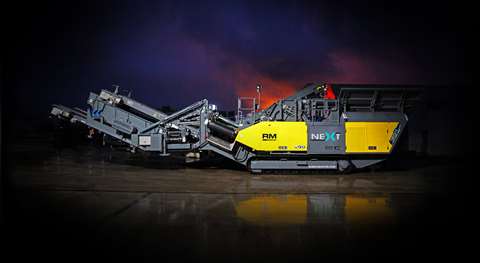 Rubble Master founder and owner Gerald Hanisch described the new machine as the company's first Next philosophy crusher and said it combines enhanced safety with maximum performance and flexibility.
"Operating an RM 120X still involves only a few buttons," Gerald Hanisch added.
"The built-in screen is only used to display information and has no sub-menus. We have received valuable input for this operating concept from our customers around the world, and the controls and display meet the specifications on job sites 100%.
"When we started developing RM Next, we always had our entire product range in mind. In future, an important role will be played by networking different products in operation at the same job site. However, we can only make this happen if all the products work according to the same philosophy."
RM Next focuses on four points, including extended service with a five-year warranty. Another feature is that with the operator-machine interface, the operator can see light signals indicating both the status and the current workload of the crusher from the excavator cab.

MORE ARTICLES FROM CONEXPO-CON/AGG 365 NEWS