Telehandlers trend toward greater versatility
By Lindsey AndersonJune 08, 2022
Over the past handful of years, trends within the telehandler industry have typically surrounded weight – debuts of 80,000-lb-capacity monsters to super-compact machines that top out at under 3,000 lbs.
But manufacturers are taking the scale out of the equation and shifting their focus to power. Green power.
JCB introduces all-electric 505-20E
In late November 2020, JCB launched the all-electric, compact 505-20E telehandler. The 505-20E boasts the same performance specifications as its diesel-powered sibling, including its 5,500-lb lift capacity. The only major difference between the two? The 505-20E is powered by a lithium-ion battery and dual electric-drive motors.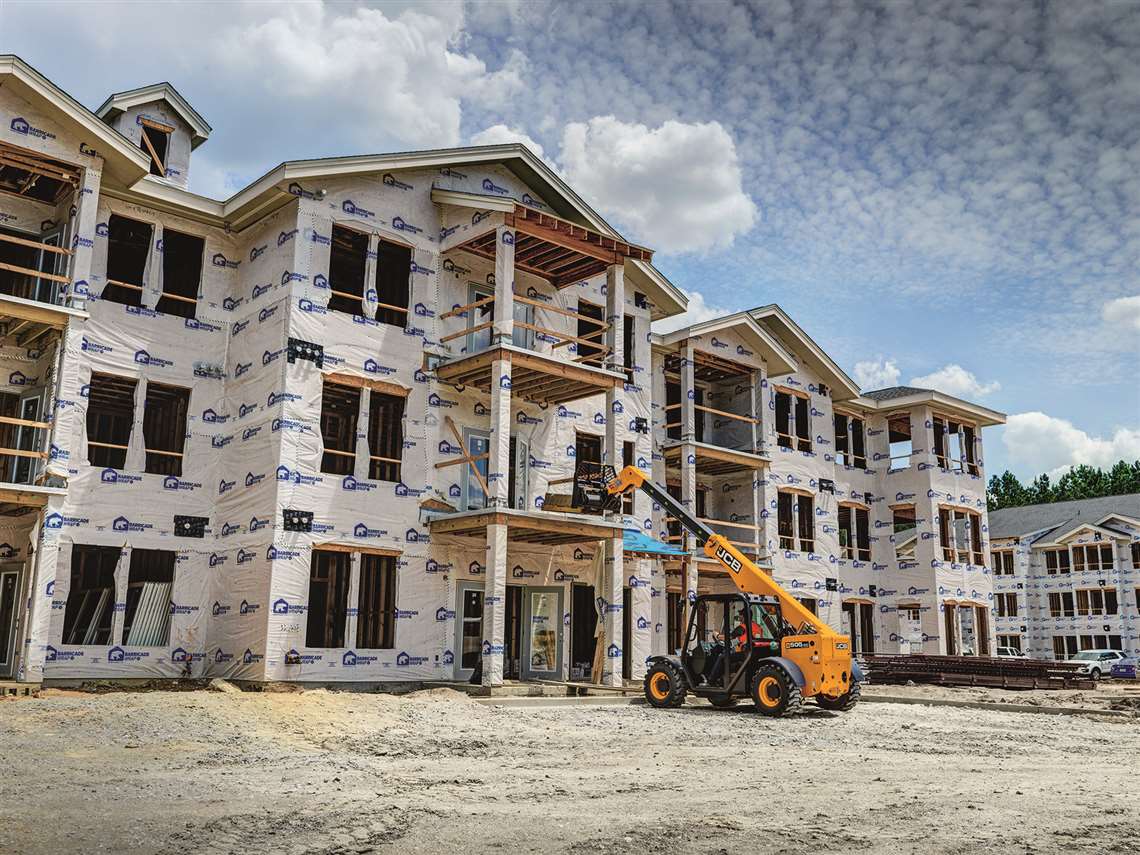 "One of the added benefits of the electric energy source is that it allows the 505-20E to work in low noise environments like schools or hazardous environments where it's dangerous to use diesel powered machinery," says Rebecca Yates, material handling product manager at JCB. "Like with the rest of the equipment industry, developing equipment with more clean power sources, or going green, is likely to continue into 2021 and beyond."
The 505-20E uses two electric motors, one for the driveline and the second to power the unit's hydraulic system. The 23-hp traction motor drives through a permanent four-wheel drive dropbox, to JCB drive/steer axles. The 30-hp hydraulic system motor powers a fixed displacement gear pump, delivering a maximum 21 gpm flow. Flow is proportional to joystick position and the lift end is controlled by an electro-hydraulic valve block, with hydraulic regeneration on boom function.
A 96V lithium-ion battery is capable of providing full-shift operation. The traction drive motor utilizes regenerative braking, instead of a traditional braking system, topping up the battery in the process. The hydraulic system also regenerates flow while lowering the boom, reducing the power requirement, and extending operating hours. The brake re-gen function automatically turns off when the battery is fully charged.
The machine has a 240V, 16A on-board charger capable of recharging the battery in 8-10 hours. Maximum lift capacity is unchanged from the diesel model as the 505-20E has the same 5,500-pound capability. External dimensions also remain the same, with a 12-foot, 1-inch outside turn radius and overall height of 6 feet, 2 inches.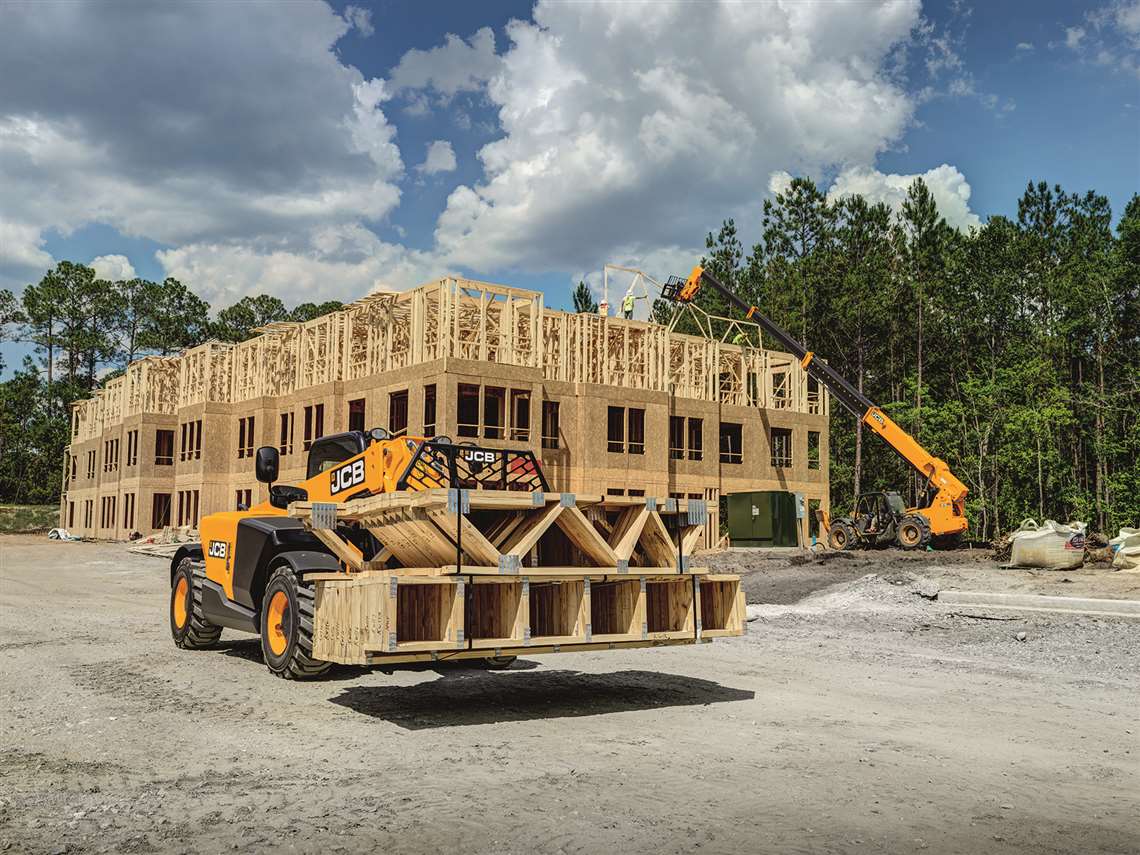 Speaking with Yates, she says value and versatility of equipment, and specifically telehandlers, will continue to be a priority with both owners and operators.
"The ability to expand the efficiency of the telehandler by adding attachments and options allows telehandlers to be used in more ways and more frequently on the jobsite," Yates notes. "For instance, the JCB telehandler range offers several attachments such as swing or side-tilt carriages and options like non-marking or turf tires enabling the machine to work in more applications. In fact, the JCB tool carrier telehandler is two pieces of equipment in one. The machine can not only use forks as a traditional material handler but can also use buckets, adding the ability to dig and push material, which is vital on a jobsite."
Lithium-ion battery-powered telehandlers
While JCB's "green" launch is the industry's most recent, other manufacturers have rolled out prototypes over the last few years. Faresin, the Italian manufacturer, debuted its 6.26 full-electric telehandler during Bauma 2019 and a year earlier, Manitou teamed up with Deutz for its full-electric Manitou MT 1135 telehandler.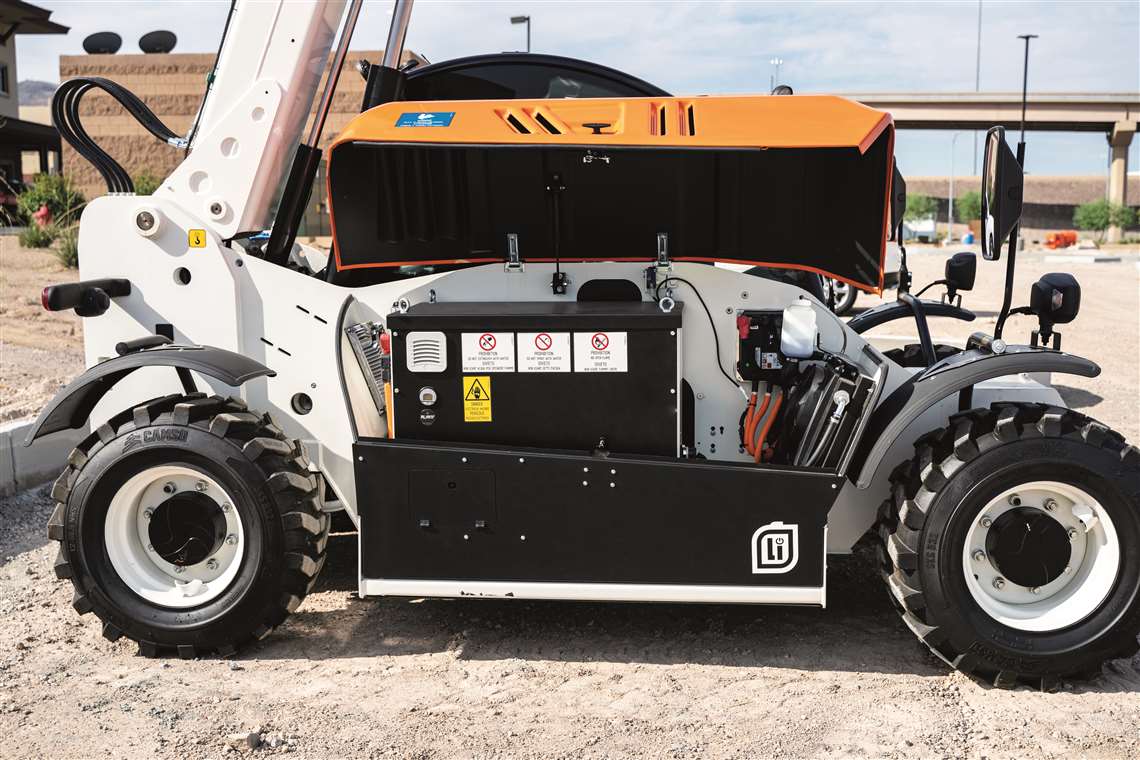 Just a year ago, at CONEXPO-CON/AGG 2020, Snorkel showcased its SR5719E lithium, electric, compact, rough-terrain telehandler. The unit, now in production, is powered by 80V 300Ah lithium-ion batteries and can perform continuously between charges for up to six hours, depending on jobsite conditions. The on-board charger provides a full charge overnight, while off-board charger options are available for fast-charging capabilities, up to 2.5 hours for a complete charge.
"We are starting to see other models enter the electric telehandler sector," says Matthew Elvin, CEO of Snorkel and Xtreme Manufacturing. "We predict that this will be a developing trend in the coming years, as highly populated cities and urban areas implement increasing dust, noise and emissions regulations."
The SR5719E weighs 10,582 lbs, can lift a maximum of 5,732 lbs and features a lift height of 19 feet.
"The introduction of lithium-ion, battery-powered electric telehandlers, such as the Snorkel SR5719E, is driving a change in the telehandler industry," says Elvin. "This new zero-emission power source option not only permits use in low emission zones, but also expands their operation into indoor spaces as well as enabling night-time use in urban and residential areas due to lower noise emissions.
"In addition to these benefits, lithium-ion technology delivers operating cost reductions with the Snorkel SR5719E delivering up to 60% savings in fuel and running costs over the diesel equivalent. We expect to see greater product development in this sector, with lithium-ion battery power becoming available on larger telehandler units in future."
Connecting machines, job sites and more
The Internet of Things. Telematics. Technology. More and more the industry is seeing connected machines, job sites and rental operations – and telehandlers are just now joining the connected crew.
"Technology is an interesting thing," muses Garth McGillewie, owner of AMS-Merlo. "It could simplify or complicate how a machine works and how well an operator can work the machine. Merlo's engineers are always building upon existing technology to create the safest and most versatile telehandlers in the industry.
"They also understand that a machine is only as effective as the operator at the controls. With that said, Merlo has added a number of features to the Roto models. Dual capacitive horizontal joysticks; access to the deck from both sides of the machine; and touch sensitive interface dashboards, just to name a few."
McGillewie makes a good point – you can have all the bells and whistles available, but they're of no use if they can't be operated properly. However, technology continues to evolve and shape the world as we know it.
"IoT is changing how we develop equipment and how equipment interacts with each other, operators and technicians," says John Boehme, senior product manager at JLG Industries. "For operators and owners, equipment is becoming more connected, allowing it to provide valuable data throughout the workday for decision making and planning purposes. For rental companies, this connectivity can help improve fleet utilization, maintenance, serviceability and uptime."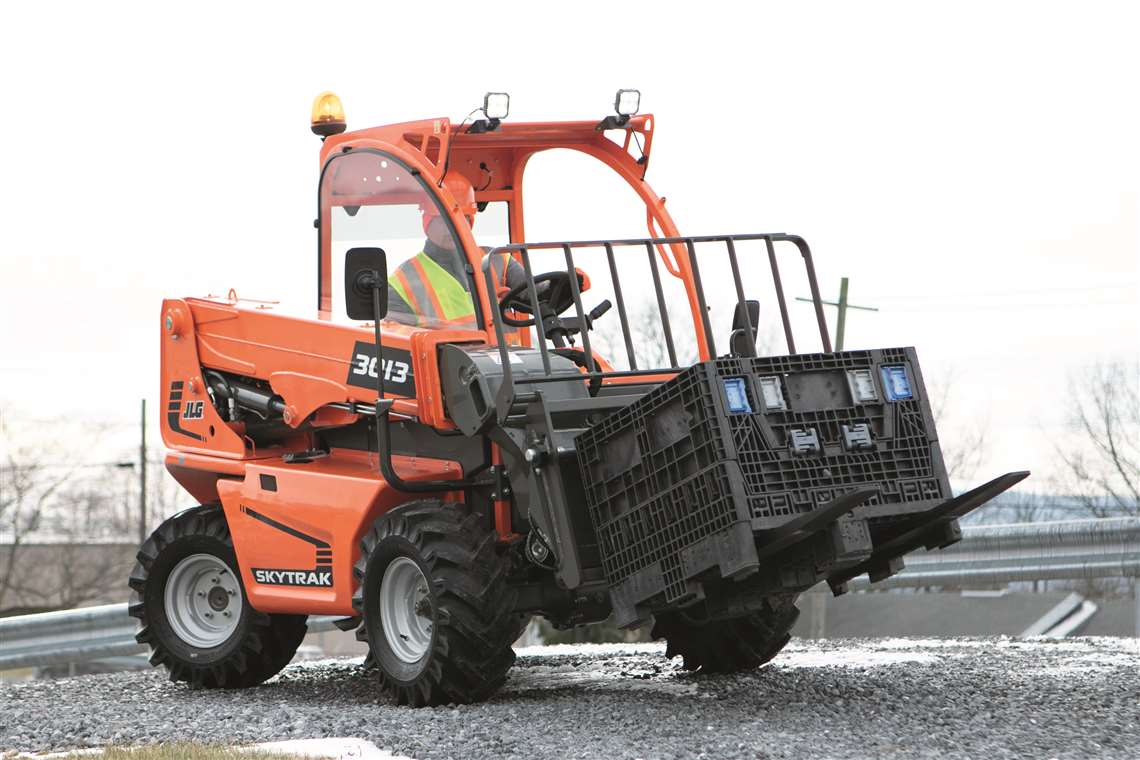 JLG now offers its SmartLoad Technology across its telehandler lineup. SmartLoad is an advanced bundle of three integrated technologies that work together to increase operator confidence and optimize productivity. The system includes automatic attachment recognition, a load management information system and a load stability indicator.
The automatic attachment recognition allows a telehandler to identify an attachment and display the appropriate load chart to the operator. The load management information system (LMIS) graphically depicts the location of the load within the load chart and assists the operator in navigating the boundaries of the chart. Lastly, the load stability indicator (LSI) works in conjunction with the LMIS to limit operation when a load becomes non-compliant.
Real-time data
Boehme notes the adoption and use of telematics on telehandlers is also a growing trend. JLG offers ClearSky fleet management telematics that provides equipment owners and operators access to a range of data, including location, engine hours, usage, fuel and battery levels and maintenance schedules. These are all available in real-time and accessible from any desktop or mobile device. The system also monitors fault codes and other critical alerts so maintenance can be proactively managed to reduce unplanned downtime.
Malcolm Early, vice president of marketing for Skyjack, also sees telematics use increasing.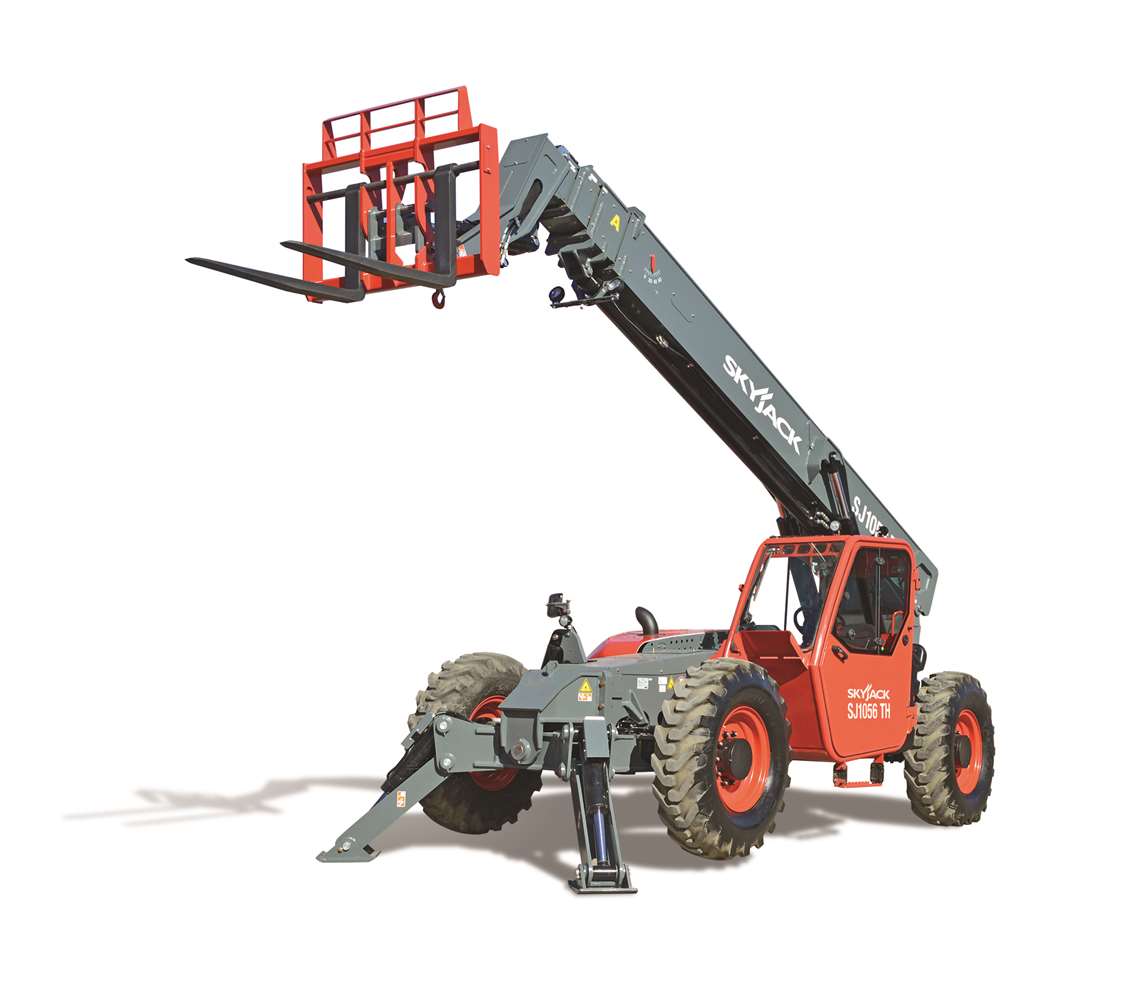 "A trend we noticed growing throughout 2020 and we see moving into 2021, is the adoption of telematics on telehandlers," Early says. "While off-road telematics products have steadily gained traction for access equipment, the adoption for material handling equipment like telehandlers is just picking up. We think this is in part to rental companies seeing the benefits of remote visibility provided by telematics solutions like Skyjack's Elevate. Fleet managers are able to see the health of an engine, CANbus faults and true machine utilization, all from the touch of their fingertips."
And Steve Kiskunas, global product manager for Manitou Group, says three major areas of technology are currently impacting telehandlers: engines, rear videos/sensors and, you guessed it, telematics.
"Over the last decade, government regulations forced a greater use of technology to control engine emissions," Kiskunas notes. "This in turn made many of the engine systems more complicated on telescopic handlers. Telematics have improved equipment fleet operations as the data capture and communication of machine status is leveraged be more efficient in there rental and equipment support. Rear video and rear object warning sensors are available for Gehl and Manitou telescopic handlers due to higher levels of customer interest in these systems."
At CONEXPO-CON/AGG, Manitou launched its MTA 120055 telehandler. The 12,000-lb maximum capacity telehandler features a maximum lift height of 55 feet, 5 inches. It features a 120-hp Cummins QSF 3.8 L engine with a four-speed powershift transmission. The most recent addition to the Gehl telescopic handler line is the company's RS4-14 Model. The RS 4-14 is a super compact telehandler with maximum capacity of 4,400 pounds and an overall machine width of only 4 feet 11 inches.
Back to the scale
Despite this technological shift – and its adaption in the market – telehandlers have one main job to do: pick and place. From little loads to heavy hauls, size still matters.
"In general, the 10,000-lb and 12,000-lb class models are in high demand," says JLG's Boehme. "That said, we are also seeing growth on the smaller end of both the JLG and SkyTrak spectrums with the JLG G5-18A and the SkyTrak 3013 and with larger, higher capacity models like the JLG 1644 and 1732. Due to their versatility there isn't really any model or size class we can rule out. The model/s selected will be based on the type of work to be completed."
JLG released a number of new units in 2020, including the SkyTrak 3013, SkyTrak 12054 and JLG 1075.
The JLG 1075 features a range of technological advancements to aid operators.
"Material re-handling on the top of structures and buildings exists as much as it does on the ground," Boehme says. " With its 75-foot lift height, the 1075 can deliver materials and equipment well beyond a roof's edge. So, it can precision-place materials on rooftops, reducing or eliminating re-handling."
Improving operator confidence
The JLG 1075 also comes standard with Longitudinal Stability Indication (LSI), as well as a two-way, right-side view camera system.
"These two technologies contribute to a higher level of operator confidence," Boehme notes. "Optional technologies include SmartLoad and a remote boom control system for improved accuracy outside the cab when placing materials. Versatility is key when it comes to telehandlers and the JLG 1075 is no exception. The 1075 accepts a wide range of common and specialty attachments, including our new sheet material handler for precision placement of drywall, plywood and other sheet material inside of structures and up to eight stories."
JLG says it expects to see increasing demand for smaller, compact telehandlers (like its SkyTrak 3013) on jobsites due to urbanization. "With less open space, buildings are getting taller and being spaced more closely together," Boehme says. "Smaller units with compact footprints that allow work in tight spaces and movement between floors via freight elevators will become increasingly common. This trend applies to additional equipment categories as well as telehandlers."
During ConExpo, Pettibone revealed both the Extendo 1056X and Extendo 1046X. Each unit features a 10,000-lb max lift capacity and have max reaches of 56 feet and 46 feet, respectively. New for Pettibone 9K and 10K telehandlers is the optional 74-hp Deutz engine package. A 74-hp Cummins engine is standard and a 117-hp Cummins engine is also optional on 9K and 10K Pettibone Extendo and Traverse models.
"Going into 2021, one of the biggest trends in the telehandler industry is OEMs releasing units with greater lift capacities and farther reaches," says Mitch Fedie, marketing manager for Pettibone. "In 2019, Pettibone released its 12K units that are available with 58 feet of max reach (the Extendo 1258X and Traverse T1258X) and in 2020 the Extendo 1056X was launched."
According to Fedie, Pettibone continues to be the only manufacturer producing a telehandler with a horizontally sliding boom such as the company's Traverse lineup. The Traverse offers up to 70 inches of traversing boom travel which allows it to safely land loads without having to coordinate multiple boom functions or move the machine physically forward or back, which can be hazardous, particularly on rough terrain.
At AMS-Merlo, McGillewie expects the company's roto models will be in high demand this year. "Companies are asking for higher lift with more capacity, as well as capabilities of using different attachments to achieve building goals. GCs want compact, nimble machines that can do more on tight jobsites."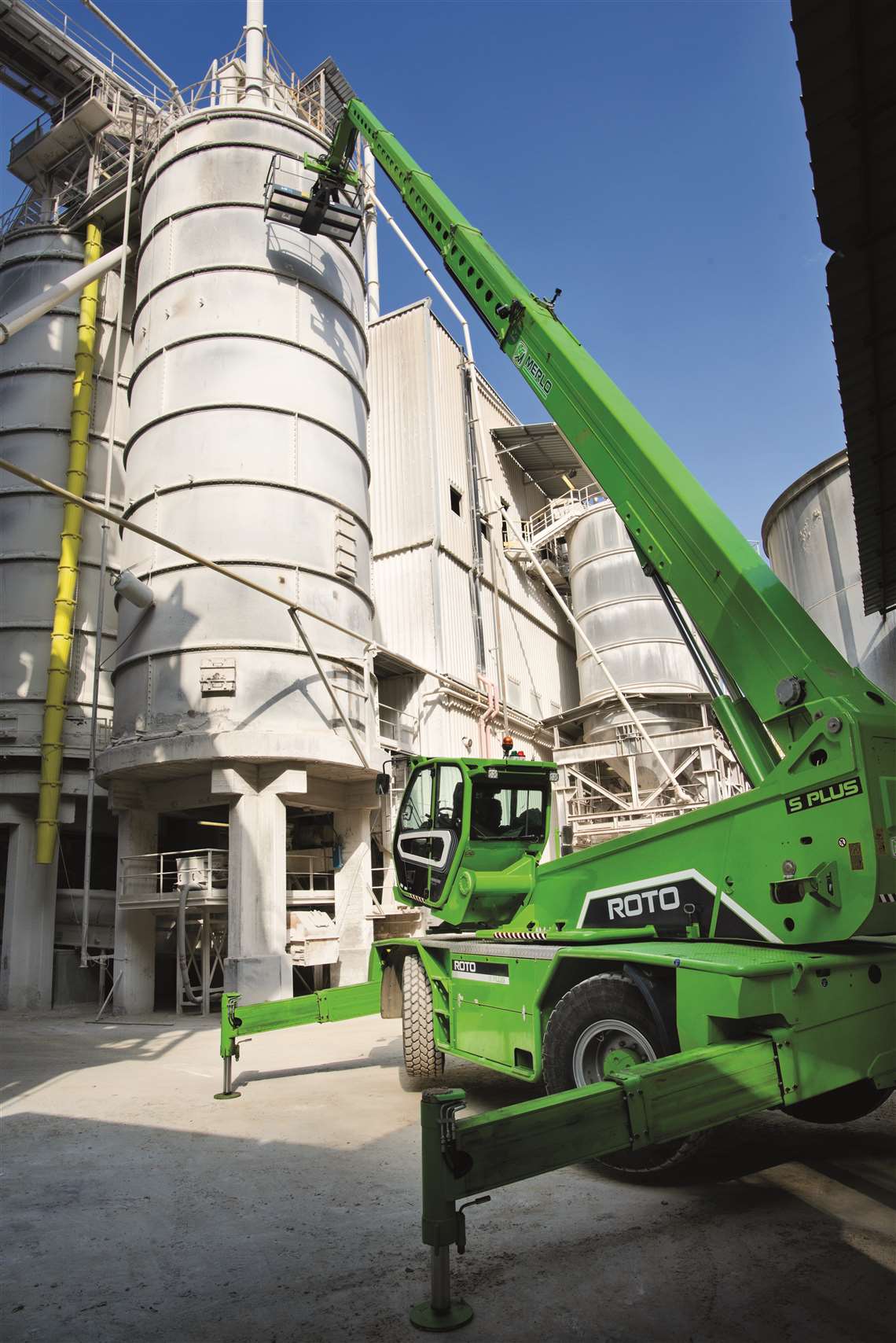 New products and developments
"It will be interesting to see what 2021 holds for the market," says Joshua Taylor, Genie product manager. "The Covid-19 pandemic caused significant disruption in many sectors in 2020. However, we are seeing modest recovery in most size classes heading into the new year. We expect that the compact, 6k and 8k classes will be strong performers in 2021. Infrastructure projects could help to buoy the larger size classes as well."
Genie, which hasn't debuted a new telehandler model since 2014, has a "full pipeline of telehandler development," Taylor says. "We have some exciting announcements planned for our telehandler lineup in 2021 — including news we plan to share within the first few months of 2021. Unfortunately, that's all I can say at the moment."
Over at Xtreme Manufacturing, the XR1285 is due for launch this year. Elvin says it will be the world's tallest fixed boom telehandler with an 85-foot maximum lift height. The unit is capable of lifting up to 12,000 lbs, making it suitable for construction contractors working on multi-story building projects.
Xtreme Manufacturing will also be introducing a new coordinated boom control option on select telehandler models this year. Coordinated boom control utilizes boom sensors to allow the operator to achieve true horizontal and perpendicular fork motions, independent from the angle of the chassis. This provides greater load control, and has been developed in response to feedback from the masonry sector, Elvin says.
Snorkel also has plans to continue its RT telehandler product line expansion this year. "This may include the roll-out of additional lithium-ion powered units, following the successful introduction of the Snorkel SR5719E," Elvin notes.
Magni also introduced new models at CONEXPO-CON/AGG. The company's RTH 6.51 is a rotating telehandler that features a maximum lift height of 167 feet and lifting capacity of 13,200 lbs. The Magni RTH 6.51 is a world leader in lift height for rotating telehandlers (surpassing Magni's previous world leading RTH 6.46, RTH 6.39 and RTH 6.35 models), it says.
Magni has reengineered many of its rotating models resulting in increased capacities with several 11,000-lb models now providing 13,200 lbs, and the RTH 6.26 (13,200-lb capacity) now transformed into the RTH 7.26 with a capacity of 15,400 lbs. The company also continues to enhance technology on its machines.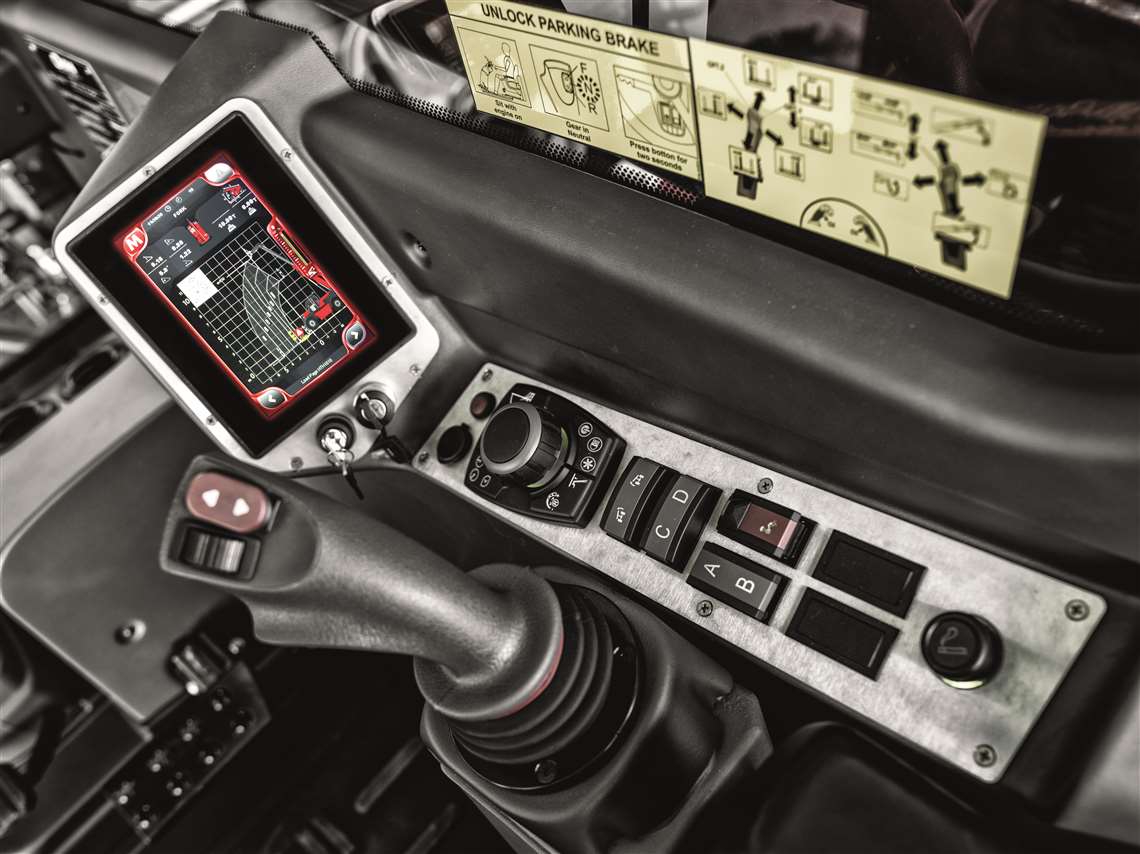 "At Magni, technology is the backbone on which we deliver our industry-leading productivity, efficiency and safety to our users," says Joe Leinwol, vice president of sales for Magni. "Although we introduced our Magni Control Panel system over seven years ago, we continue to enhance its performance. This advanced concept in machine management makes it super easy for operators to perform in a safe environment. The user-friendly full color touchscreen, which is both intuitive and easy to learn, is used to manage the whole machine as it gathers all usage data and displays them conveniently over five pages." 
MORE ARTICLES FROM CONEXPO-CON/AGG 365 NEWS