Telematics in the access sector
By Euan YoudaleJune 16, 2020
Telematics are the eyes and ears of onsite access equipment. As companies like Trackunit, InspHire, MCS, ZTR and Orbcomm develop their technologies, its importance and influence on rental fleets and even product design can only grow, particulary in a Covid-19 world. 
As Skyjack states, Covid-19 continues its grip on our everyday lives and economies, therefore day-to-day working habits are changing too. "Remote working, dealing with travel restrictions and the need for social distancing have required that we take advantage of technology. As we deal with the crisis, these technologies will continue to contribute, [and] one of the more recent trends has been the adoption of telematics," says the company.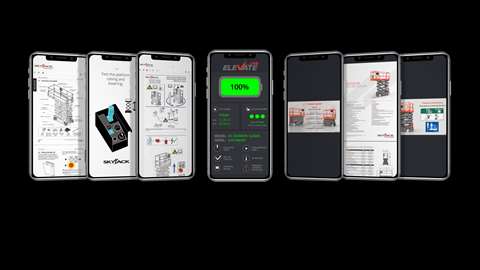 Skyjack's recently launched Elevate Live, with its QR code based operation, provides performance data that enables more remote service support. An interesting observation, says the company, is the way much of the North American education system has coped with the pandemic by using remote learning resources. "There is a parallel in rental for training, especially as the demands increase with the advent of new the new [US] ANSI standards. Elevate Live also supplies the user with key serial number specific details and instruction that help reduced service calls and allow rental companies to handle obligations."
Skyjack's Elevate offering is powered by Trackunit. And as Trackunit explains, telematics contributes to machine and operator uptime and helps to extend life platform life. "Aerial platforms continue to be one of the hot areas for telematics in the construction sector. We see the key telematic solutions areas as access control, and its importance in tracking operators to ensure trained personnel are on the platform. Telematics within the battery management and maintenance routines is also critical to ensure battery life is optimised," says Soeren Brogaard, chief commercial officer, Trackunit.
The task now is to devise and implement working processes that allow crews to get back on site and site management to operate in an environment of safe social distancing, adds Brogaard. Mobile apps can help, as can data standards, and the current situation is increasing the momentum for industry agreement on the frameworks for data communications.
"Many developers, OEMs, rental companies and contractors are taking advantage of this downtime period to investigate new digital capabilities for machines and be better prepared and equipped for the future," says Trackunit.
Hygiene issues can be reduced by handovers, validation and pre-checks all being undertaken by individuals with mobiles apps, while digital access keys will eliminate the requirement for handling physical keys or handbooks. AWPs also offer the potential to hire on a specific use basis, where software locks are used to limit the height of a platform and embedded features can be unlocked with a rental extension.
"As the electronic architecture of platforms are getting more complex, the machines generate a constant stream of diagnostic sensor data," says Brogaard.
Trackunit's Attention List consolidates, analyses and clusters data into hierarchical peak events depending on their influence on machine health, in which missed services, machine threshold breaches and CANbus errors are given higher weighting over less critical errors.
High standards
And the company's recent upgrade to its Iris offering provides a secure, open, cloud-based platform, with increased capability to support the ISO 15143-3 standard, formerly AEMP 2.0, for data communication in the construction industry.
The standard enables high-quality data feeds to be easily connected to the Trackunit ecosystem for fleet-wide analytics and remote diagnostics on a single dashboard. An easy to deploy, compact and robust, self-powered tag, to be launched later this year, will take things further, enabling all site equipment, incluidng accessories, to be tracked, monitored and connected using a single software platform.
For similar reasons, MCS offers its Telematics Hub that helps rental companies make use of their telemetry data all in one convenient place. Rental businesses often have a number of telematics systems and providers for different assets, says the company, but this makes the data difficult to obtain or use in context with their inventory.
With the Telematics Hub, a rental company can quickly locate its equipment and pinpoint where assets are on a map within the MCS-rm rental software solution.
Nick Thomson, sales director at MCS, explains, "Theft of hire equipment is a common reason why rental businesses choose to invest in telematics. Hirers can even set alerts so that if an asset leaves its permitted work zone, they are immediately notified and they can act fast. Ensuring this data is available within their central management system makes this possible."
Expanding usage
A vast number of telematics providers integrate with the MCS Telematics Hub including Teletrac Navman, Trackunit, Enigma Telematics, JCB LiveLink and Teletrack, fro example. It means a rental company can use any number of solutions on its equipment and still collect all of their data in one place.
"With so many partners in the telematics industry, we have been able to offer a service to unlock the true potential of telemetry data. They are no longer held back by needing to log into multiple different platforms."
The traditional use of tracking for theft recovery, although still of great importance, is now only part of the picture. Chris Clarke, development manager explains, "With ever increasing demands, integrated tracking solutions can help rental companies to begin to answer questions like, 'Where is my delivery?', 'What equipment do I have on what site?', 'Is the equipment I have on hire still being used?', and looking further into the future answer questions like, 'Are my staff using the hired equipment safely?'".
At InspHire, Martin Bestwick, sales director, confirms the predominant use of telematics is still very much geared towards asset location and usage data, "But that is starting to evolve more so for the specialists, as opposed to the generalists. The specialist providers are looking to enrich the data and service they provide to the end client via portals showing inefficient or unsafe operator behaviour whilst the generalists are understandably focussing on smaller wins such as the automation of charging and servicing schedules.
"I see it shifting to delivering more value to the end user relationship reducing risk, increasing safety and exposing inefficiencies in operator behaviour."
Therefore, inspHire has a range of products which are constantly evolving to meet the demands of the AWP market. Its core applications consolidate a large range of telematic data collected from over 18 different providers including specialist companies such as ZTR, CanTrack and Trackunit to more tailored OEM's feeds ensuring customers have all the information they need in one system.
Recently the company has modified its Web portal to pull through a range of telematic data which is overlaid on a Google maps interface. This provides customers and their customers with key information relating to hire products. "We are now starting to see a change in the type of requests coming from our customer base shifting from benefits aimed at driving efficiencies through to ways in which it could add more value to the client's own relationship with their customers. Obviously, reducing the running costs by automating the collection of key usage data to drive charging and service schedules is a big win for our customers but in more recent times we are finding that reducing risk and finding ways we can help increase safety on site is the next big frontier.
"The coronavirus outbreak has really emphasised the importance of why having a good digital strategy in place is a necessity."
Data sharing
ZTR has modelled much of its latest technologies around the idea of data sharing, and data brokerage specifically. The company provides the platforms for Genie's Lift Connect and United Rentals' telematics solutions.
Furthermore, ZTR says rental companies and OEMs are already adjusting their business strategies to adapt to our new world and Covid-19. "The reduction in capital expenditure spending in the industry means equipment owners will need to protect their current investments to preserve fleet health and resell value. Insights and data derived from telematics solutions will enable this.
According to ZTR's commercial director Paul Wilson the MEWP industry is seeing greater adoption of remote IoT-enabled access control and management solutions. "This allows specific operators with codes or access cards to enable or disable machines or restrict operations to certain times of the day. While this is valuable and interesting, a somewhat overlooked trend exists where machine OEMs want to leverage IoT solutions for more complex operations."
ZTR has designed advanced control capabilities tailored to specific OEM-machines through its ONE i3 platform. This could be a simple remote command to start or stop a machine, or to comply with a rental agreement by instantly diagnosing and updating key operational parameters on a lift.
In addition, the company's latest products include the ZTR M7 that extracts rich machine data to provide a clearer picture of usage, productivity, performance and access that easily integrates with OEM controllers and engines. With one piece of hardware, users can gather rich insights from their fleet.
As Wilson explains, OEM product engineers need to have data to validate quality and see customer experiences to build better machines. Using its ONE i3 platform, ZTR has also added two new interactive dashboards that provide utilisation and fault insights at the KPI level and enables ONE i3 users to explore and analyse their data quickly, through clear visuals.
And with access data being so critical, ZTR has announced its Data Brokerage solution that enables benefit-sharing between companies' from data across multiple customer accounts. This year the company is launching its T-Series tags, extending the IoT ecosystem beyond the machine to tools and attachments. The T15 and T25 are quick and easy to mount and are easily activated with a smartphone.
Wider connectivity
Orbcomm is another major telematics platform provider that provides its platform to JLG, among others. As Jon Harden, general manager of OEM Solutions, at the company, explains, there is a keen focus around training and operator identification, ensuring qualified people are operating the machines in a safe manner. "We continue to expand and enhance our data collection and data analytics capabilities to provide customers with actionable insights."
To better meet the global business needs of its aerial platform customers, Orbcomm has introduced products capable of true global operation, eliminating the need for region-specific versions of hardware. Harden says, "This simplifies inventory management, sales, and operations. We continually enhance data collection capability to meet increasing demand for information from machines in the field."
Orbcomm offers the PT7000 Global LTE with cellular and dual mode options, combining cellular with satellite connectivity and GT1020 cell-only devices that report into the company's FleetEdge 4 application. FleetEdge 4 is specifically designed to provide fleet managers access to location data, operational status as well as analytic, predictive and diagnostic tools for all assets in their fleet. "Apart from complete tracking and monitoring solutions, satellite connectivity provides enhanced reliability and ensures data communication in areas with poor cellular coverage," says the company.
Orbcomm will be launching a Global LTE version of the GT1020, combined with its Global SIM, to provide a compact cellular device that can operate around the world.
Data sharing among competitors is still one of the main sticking points, says Harden. "The trend is to connect more assets and gain more insights from both high value and low value equipment. Joint digital understanding is now needed as the industry faces the task of enhancing connectivity, communication and analysis among models made by different producers."
On track
Ctrack offers a wide range of hard-wired and battery-powered tracking units, which can monitor all types of access equipment and support vehicles together on a single screen. This means a telematics solution can be tailored to the precise security and utilisation needs of both contractors and rental businesses.

Most recently, the company introduced two ultra-compact wireless tracking devices to extend its range of battery-powered solutions. The sizes are 137mm and 97mm in length, respectively, and are lightweight, meaning they can be easily fitted and concealed, whatever the tracking requirement.
The BX500 model is powered by removable Lithium batteries, which can last up to four years when providing a single, daily tracking update. Contained in a rugged housing, it is IP67-rated for both water and dust protection.
The BX600 is a rechargeable GPS unit with a battery life of up to six months on a single charge. It has been designed to track vehicles and assets where long battery life is required without sacrificing the frequency of updates.
Ctrack is extending its capabilities by introducing trackable tags that can communicate with a vehicle's tracking unit or an on-site base station. This will make it possible to monitor equipment that previously was not of sufficient value or physical size to make a traditional tracking solution worthwhile or even workable.
Using an application programming interface (API), The company can create bespoke solutions that export live data from its systems into other back-office software tools.
MORE ARTICLES FROM CONEXPO-CON/AGG 365 NEWS