Telescopic boom lifts push the limits
By Euan YoudaleJanuary 27, 2021
The telescopic boom sector has seen some important developments recently, from the top to the bottom of the working height spectrum. 
At CONEXPO-CON/AGG in March, Snorkel unveiled the world's largest self-propelled telescopic boom lift, the Snorkel 2100SJ. 
Dubbed a 'mega boom,' the new Snorkel 2100SJ reaches a maximum working height of 217 feet, provides an industry-leading outreach up to 100 feet, and an unrestricted platform capacity of 661 lbs. Ideal for high-rise construction and maintenance tasks, the 2100SJ reaches the equivalent of 22 building stories.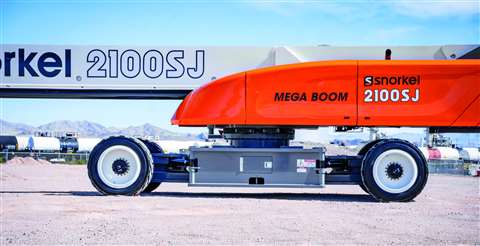 The Snorkel 2100SJ is the first self-propelled boom lift in the world to reach a 217-foot working height.
"We are essentially creating the market," says Mathew Elvin, CEO of Snorkel. "We see plenty of opportunities for the 2100SJ, and already have customer interest from a number of stadium projects that are under construction, as well as for maintenance activities in petrochemical facilities."
Elvin explains that as buildings get larger and more complex in their design, contractors need not only equipment that can reach higher but also reach further.
The 2100SJ has an outreach of 100 feet and the largest working envelope in its class with an area volume of 5.48 million ft3. The company's engineers are working on additional high reach telescopic boom models to be unveiled in 2021.
Snorkel also presented the 660SJ All Terrain, at CONEXPO, which is its mid-size telescopic boom lift, fitted with tracks as part of the company's All Terrain package.
Mega to micro 
Moving from the mega to the micro, MEC engineers were challenged to develop a solution for the thousands of construction jobs that are under 40 feet but also require outreach.
According to MEC, "The smallest telescopic booms available in today's market offer 46 feet working height, which is often more machine than is necessary for the job." In response, the U.S.-based manufacturer this year introduced the new 34-J diesel telescopic boom, which is very compact yet can stand up to the role of a rough-terrain construction boom.
The model provides a 40-foot working height with standard 5-foot jib with 135-degree range of motion. It is compact and lightweight at 8,600 lbs without compromising durability. Another advantage is that it can be towed by a full-size truck and trailer, or three units can fit on a flatbed truck. It also features a standard 72-inch platform, including three-sided entry with a swing gate.
Diesel-powered lifts still relevant
Haulotte has expanded its diesel line this year, with the 52-foot working height HT16 RTJ, launched in June. The HT46 RTJ O/PRO shares the same design and performance characteristics as the other models in the RTJ range. The boom provides a dual platform capacity of 550 lbs, increasing to 770 lbs.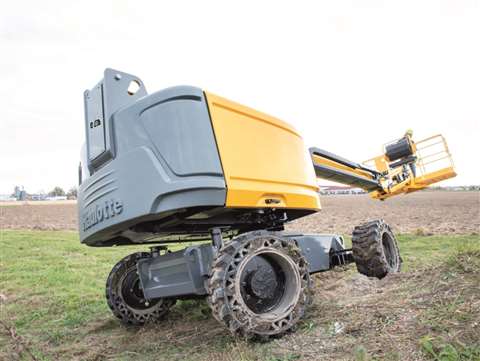 The new model elevates to full working height in less than one minute and has a 360° turret rotation. The mechanical axle drive allows for the use of a smaller 24-hp, simpler engine, while maintaining the same performances as other RTJ booms in the range. Thanks to this smaller engine, it eliminates the need for a Diesel Oxidation Catalyst (DOC). In Stage V-regulated countries, there is also no requirement to use a Diesel Particulate Filter (DPF).
Expanding capacities
Dual capacity has become standard in the industry, following the annoucement of ANSI standards, which ultimately came into effect in June 2020. In the second quarter of the year, Skyjack announced it had enhanced its boom range, with most of the changes focusing on its 40-foot and 60-foot products and largely boasted increased platform capacities. The SJ45 T+ and SJ66 T+ feature dual-capacity ratings of 600 lbs and 1,000 lbs.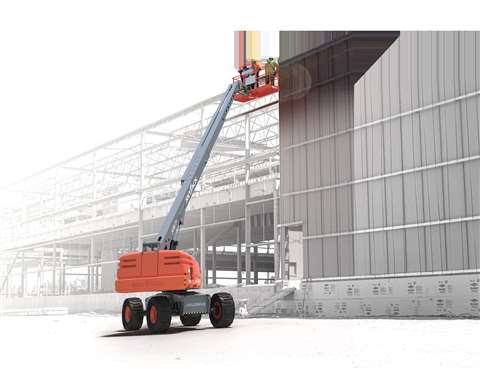 "Because of updated ANSI A92.20's approach to load sensing meant stopping equipment from being operated while overloaded, we decided to expand the functionalities of the equipment by providing it with a dual-capacity rating," explains Corey Connolly, product manager at Skyjack. "This helps create an easy transition for end users."
JLG's Hi-Capacity boom lift models, first launched in 2019, have a similar aim. The HC in HC3 refers to its Hi-Capacity, while the 3 stands for the three working areas to which the machine automatically adjusts itself.
There is 660 lbs capacity available in the entire working envelope and 750 lbs to 1,000 lbs in the restricted area, allowing three people with tools in the basket and a side inclination of 5 degrees.
For example, the 460SJ HC3, first introduced at bauma 2019, has a working height of 53 feet and a maximum outreach of 43 feet, depending on the platform load, and a 360-degree rotation.  
Lower-cost option
Genie, having previously launched a range of dual-capacity XC booms, returned to a single-capacity format this year with the new J series, so far incorporating the S-60 J and S-80J. The J series is designed to complement the heavier-duty XC and its hybrid FE booms.
Both models have unrestricted platform capacity of 660 lbs, with a 6-foot jib and work heights of 66 feet 10 inches and 86 feet, respectively.
The series is designed for completing maintenance, inspections, painting, and other general work-at-height jobs, rather than the heavy-duty construction work of the Xtra Capicity (XC) range, and as a result lowers the cost of ownership by up to 20%.
The two-section boom and single envelope mast drives cost savings by eliminating length sensors, cabling and wearable components throughout. A new hydraulic system requires 33% less fluid volume than common booms in comparable height classes. It also weighs about a third less than comparable booms.
Providing a further option, the S-80 J is lightweight enough at 23,000 lbs to be equipped with Genie TraX system, an independent four-point track system that makes it agile drive in difficult terrain.
Electric range
Dingli has confirmed that its full series of large self-propelled boom models are now available as electric-powered versions.
Since 2016, Zhejiang Dingli's European research and development center has launched 14 boom lifts in the 80- to 100-foot working height category. Seven of the models are combustion engine-powered, while seven are electric- powered. The models have basket capacities up to 1,000 lbs.
Dingli claims to be the world's only series production manufacturer of electric-powered self-propelled booms with a capacity of 1,000 lbs and a working height over 72 feet. Its line-up of electric booms now incorporates telescopic models from 80 to 100 feet.  
The electric and diesel engine drive series are developed on the same platform, with 95% of the structural parts and 90% of the components being common, thus reducing the cost of maintenance, parts storage and labor.
The electric models are equipped with 80V520Ah high-capacity lithium battery packs, which support 90-minute quick charge, supporting on average four days of use.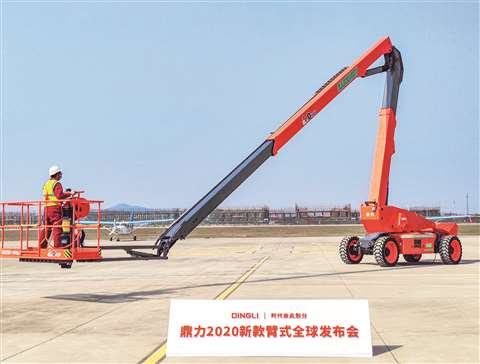 The manufacturer is making further inroads into telescopic booms. Up until now its boom lifts have ben co-designed with Italy-based Magni. That relationship will continue and with Dingli's investment in 24% of Germany-based tracked platform specialist Teupen's shares this year, so will its development of its boom line. Teupen will concentrate on the development of very large self-propelled boom lifts in the 118- to 164-foot working height range.
Teupen CEO Martin Borutta says, "We always have to be ahead in the area of weight, height and outreach because spider lifts have to be as light as possible with the maximum performance we can provide."
Sinoboom will introduce a series of heavy-duty booms to the market later this year. The dual load capacity of 660/1,000 lbs allows workers to bring more tools to height, so improves working efficiency. In the future, 60- to 92-foot working height, pure electric telescopic boom lifts are planned, as well as pure electric and hybrid rough-terrain scissors, and telescopic and articulating boom lifts in line with European Stage V. Beyond telescopics, a 60-foot articulating boom lift will join Sinoboom's electric lift family.
MORE ARTICLES FROM CONEXPO-CON/AGG 365 NEWS