Tower cranes: moving along
News from the last few months in the tower crane sector ranges from a new mast system to a spectacular record-breaking project with all sorts of things in between.
In terms of business and markets Covid-19 of course has had an impact. For most it has delayed delivery of orders and some projects have been postponed or cancelled. A positive impact, however, is reported by Simon Marr, managing director at specialist tower crane company Marr Contracting from Australia. In recent years The Men From Marr's have diversified into new geographic and sectoral markets and invested in R&D and innovation.
These moves paid off as we went into this global pandemic, Marr says, "For us, Covid-19 has had a positive impact on our business in that it has reshaped our order book, and as we are now more focused on infrastructure projects – both in Australia and internationally – our business is more geared to support longer-term, resilient projects. Our ability to think differently has meant that the types of jobs we tackle are diverse as we export our designs and innovation worldwide. Positively, (in Australia anyway), Covid-19 has seen the entire construction industry come together to create and work out how to get through this crisis."
As in all other crane sectors new technology is making itself felt in all areas. An example to help crane specifiers and application engineers, is from Liebherr, now offering its Lias tower crane configurator online for public use. Customers can configure their cranes with details that include the corner pressure, the counter ballast and the central ballast in the configuration the customer has chosen.
Another trend for crane types in the sector is a continued move towards larger cranes, both for hammerheads and luffers, also in markets and countries where previously only smaller cranes have been used.
Large flat top tower cranes were the subject of our last major tower crane focus, in April. These were for PPVC construction but they have other applications too. Back in April 2019 when the famous Notre-Dame Cathedral was on fire in Paris, France, the world watched a major piece of history go up in smoke. Soon after, however, following unprecedented levels of financial support pledged from all sorts of people and places, work started to rebuild the vast stone and timber building.
Crane rental, sales and service provider Uperio, with crane manufacturer Manitowoc erected a 25 tonne capacity Potain MDT 809 flat top tower crane at the cathedral site. Capacity at the end of its 80 metre jib is still 9 tonnes. Its new reinforced K mast allows a maximum freestanding under-hook height of 74 metres. The crane is on an 8 metre cross base and has an UltraView cab.
Uperio delivered the crane from its Loury depot, 100 km southwest of Paris, in 20 truckloads. The mast went on seven trucks and the rest of the crane in the remaining 13 loads. Space on site was at a premium. Uperio planned it so the right components were available on site in the correct order at the right time.
Jean-François Minoret, Uperio regional director for the Ile de France region explains, "Setting up a large tower crane such as the Potain MDT 809 on the tight Notre Dame site requires a meticulous organisation of space and sequencing to ensure short assembly times and highest safety. Our aim was to provide our customer, Europe Echafaudage, with a turnkey crane, and we succeeded, thanks to the crane's brilliant concept and our team's experience of many years. Our technicians will be available after the assembly to oversee maintenance tasks and provide on-site support as necessary."
Another application for large flat top tower cranes was building the concrete piers of the new Renzo Piano bridge over the Polcevera River in Genoa, Italy. Construction using five Italian FM Gru models was completed earlier in 2020, in record time.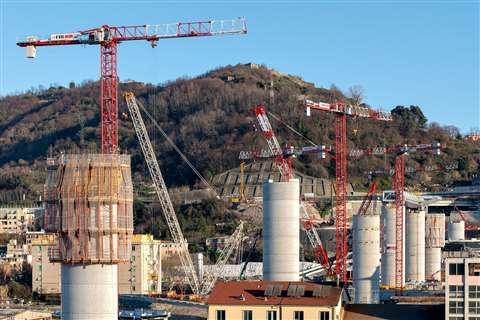 The cranes were customised for this project. FM Gru chose its 12 tonne capacity 2760 TLX and 2675 TLX models, erected 52 metres tall mounted on a 6 x 6 metre undercarriage. At 27.90 metres, their jibs were specially shortened to allow the cranes to slew between the pillars during their construction. Elliptical section reinforced concrete sections were stacked to form the columns.
The work was carried out progressively in steps. Each of the cranes worked alongside a pillar. When all in the group were finished, the cranes were moved on in sets until the entire vertical skeleton of the 18 supports was completed. Helping with the moves were some UK-made polymer support pads 100 mm high. Each pad was guaranteed for 230 tonnes but was small and light enough for easy transfer to the next position, FM Gru says.
From the manufacturers
Manufacturer Wilbert based in Germany has finished testing its new large flat top model, the WT 720 e.tronic. Capacity is up to 32 tonnes and the maximum jib is 85 metres. At the end of that jib the capacity is 5.7 tonnes. Jib length can be changed in 2.5 metre increments. Maximum freestanding hook height, with its distinctive round tube tower system, is 100 metres or, with a new reinforced tower, more than 130 metres, the company said. It has a new control and drive system with fully stepless motion and an extra capacity function. There is 3D work area limitation and remote data gathering and diagnosis capability.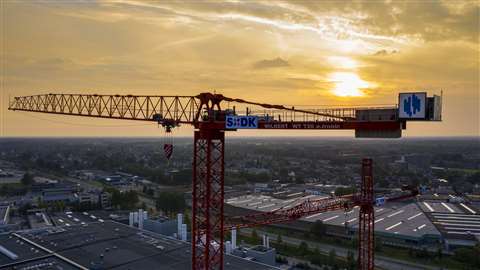 Spanish manufacturer Comansa has revised and updated its 11LC series of flat top tower cranes. The four models: 11LC90, 11LC132, 11LC150 and 11LC160 are now joined by a new 6 tonne version of the 11LC150.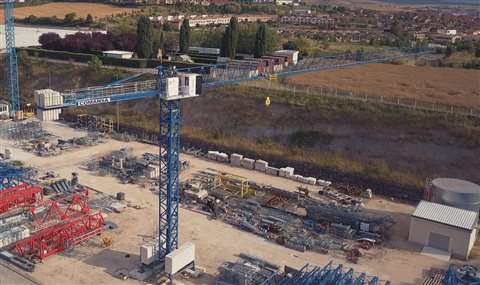 Changes to the 11LC series include improved access to the cathead and to the jib to allow easier access to the trolley. A new single trolley can be specified. It has a manual changeover for single or double reeving which can be effected by the crane operator from the ground.
New drives for the hoisting winch and trolley makes it possible to more easily move and precisely position sensitive loads, Comansa says. A new version of the 18 kW hoist mechanism has been added to the 6 tonne versions. It requires less power for the same drum capacity and speed. Now standard is the Power Lift system. It improves the capacity chart by 10 % at reduced speed.
A new version of the recently introduced Cube cabin is available. It is the "M" size and there is also a resized and redesigned platform to go with it for easier erection and maintenance. Full glazing for the front of the cab is to give a better view of the load and the work area. Ergonomic changes inside include improved positioning of the seat for better body posture.
The Quick Set system from the 21LC series can now be specified on the 11LC family. It reduces set up and calibration times when commissioning.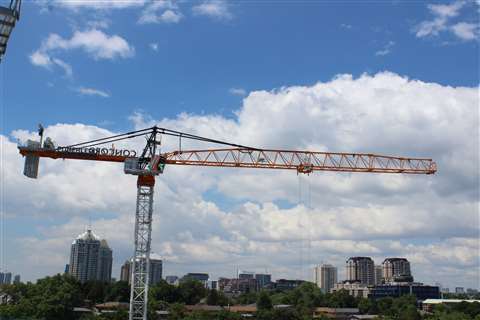 Italian manufacturer Moritsch Cranes has erected the first off two units of its first-in-series low top model RTT330 in Canada. The first unit has been rented to Hardwall Construction, for a residential building 300 feet high at Block 11 Park Place in Toronto. It will be on site for 18 to 20 months. Customer Dell-Core, the equipment rental division of Hardrock Group, already has other Moritsch cranes, including the bigger RTT470 and the luffing jib RTL265. Moritsch says it has sold almost 30 cranes in Canada since 2017.
Booming up
Luffing jib tower cranes will continue to become more popular as the construction density continues to increase and sites become ever more congested.
New from Wolff is the 16 tonne (on two falls) 235 B, a 224 tonne-metre luffer. Jib lengths are between 30 and 60 metres with the optimum being 50 metres, Wolff says, at the end of which capacity is 4.1 tonnes.
To save money for owners, fast assembly and easy maintenance were key requirements for the new crane. As a replacement for the224 B it fits in the range between the hydraulic 166 B and the 275 B. Concrete work and high rise construction are typical applications.
Wouter van Loon, Wolffkran product manager, comments, "The Wolff 235 B was developed in close collaboration with Wolffkran customers from the UK, who have decades of experience in handling luffing cranes on inner-city construction sites."
To help improve assembly the hoisting gear is on the jib rather than the counter jib. "This makes it possible to reeve the hoisting rope on the ground and thus completely pre-assemble the entire jib," van Loon explains. Similarly, the luffing gear can be mounted on the counter jib or tower top, according to the size of assembly crane available. The latter means the entire tower top with hoisting gear and pre-reeved pulley block can be transported and mounted in one lift. This model can be assembled using another of the same type at a radius of 40 metres which is useful on multi-crane sites.
A requirement for easier maintenance and a smaller component inventory are helped by having identical winches for both the hoisting and the luffing gear. It is the proven 60 kW Hw 1160 FU used on many other models. The same goes for the slewing drives and frequency converters, Wolff says. The 8 tonne counter weight blocks are also common to larger models and four are needed on the 235 B.
Maximum working speed is 130 m/min and 620 metres of rope can be stored. On the 2 metre UV/TV 20 tower it can achieve a maximum freestanding height of 82 metres.
Italian manufacturer FMGru's latest luffer is the FM 2052 LK. Target markets for this hydraulic type include congested sites in Europe, the Americas and the Middle East. It lifts a maximum of 10 tonnes (on two falls of rope) and can have a boom up to 52 metres long. Tip load capacity is 2 tonnes and it completes full luffing in 1.6 minutes with its 37 kW motor.
Technology includes an electronic control system for easy set-up, automatic ultra-lift (+10 %), anti-collision and zoning, plus a hook level luffing system. For slewing the operator can choose three speed ranges from a touchscreen display. Similarly for hoisting there are two speed ranges plus a much slower "super-reduced" speed. It allows the operator to choose the best speed according to the load.
From a practical point of view the new FM Gru hydraulic luffer shares many components with other FM tower cranes so a smaller spare parts stock holding is possible. Examples include winches, hooks and other gear.
For faster erection there are pre-assembled units. The complete hydraulic section structure and mechanisms is pre-mounted in one piece. The full counter jib and the jib are assembled on the ground before mounting on the crane as a unit. Different size modules can be built according to the job site and size of mobile assist crane available for assembly or dismantling. It is a similar case with the transport.
An unusual luffer installation has just been made in the UK by rental and sales specialist Bennetts Cranes. The Raimondi LR 213 in Fulham, London, will have a final freestanding height of 105 metres. It will be the tallest in the country. The project at Chelsea Creek to build one, two and three bedroom homes is by St George, part of property developer Berkeley Group.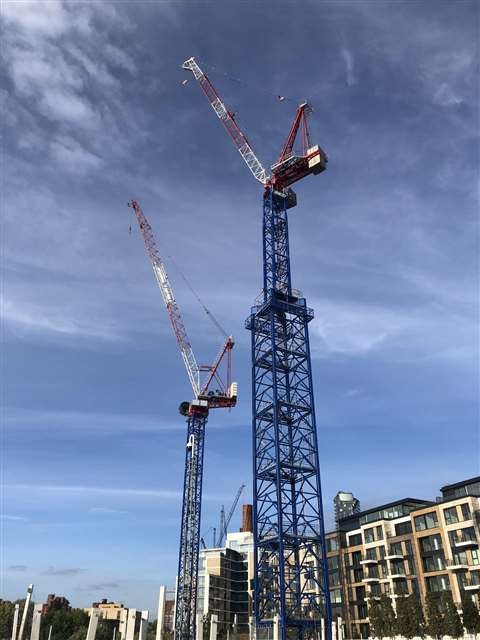 The LR 213 is on a 55 metre tower for the initial construction phase but its final height will be 105 metres later in 2020 as the buildings reach 32 storeys. Typical freestanding luffing jib cranes would be between 30 and 60 metres tall for residential developments, with some occasionally reaching 70 metres. There are none known to be operating in the UK freestanding at more than 100 metres, said Bennetts.
In anticipation of the final height, the large base has already been concreted in. It is 4.5 x 4.5 metres, rather than the usual 2 x 2 metres. Edward Seager, Bennetts Cranes managing director, explains, "When you double the height of a tower crane, the forces don't just double, they square. Further to that, the wind is stronger the higher you go and so, the taller the crane the more force upon it from the wind. The tower that has been installed for this crane is very large and needs to be extremely strong for the 105 metre mast."
Seager explained that over the last few years there has been a steady trend towards using taller freestanding cranes, driven by changes in cladding systems, which has meant it is difficult to apply cladding while the crane is tied to the building.
"Developers also favour free-standing cranes because they give more flexibility on site, and result in a quicker build time because you don't need to climb the crane and tie it to the building. The cladding can be put on as the building is constructed, rather than waiting for the cranes to be removed," Seager added.
The LR 213 has been joined on site in Fulham by an 18 tonne capacity LR 273, one of Raimondi's newest luffing jib models.
 Liebherr has delivered the 1,000th unit of its 81 K.1 fast erecting tower crane since its introduction in 2016. It went to family-run Mayer Hoch – und Tiefbau in Bavaria, Germany. The building and civil engineering company already has two other units of its type and 11 other Liebherr tower cranes. Michael Mayer, managing director at Mayer Hoch – und Tiefbau, says his oldest Liebherr crane is a 63 K from 1986.
The day after the handover the new crane was on its way to its first job, in Traunreut, in the Chiemgau region, where a residential complex with underground parking is scheduled to be completed by 2022.
The 81 K.1 lifts 6 tonnes and offers a 48 metre maximum radius. Mayer used his first unit to build a 655-space car park. Clever placement of the crane meant that the entire construction site was serviceable with just one machine, Liebherr says.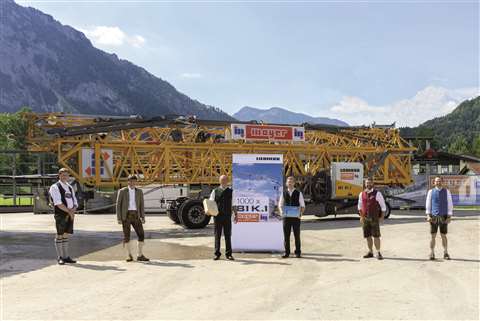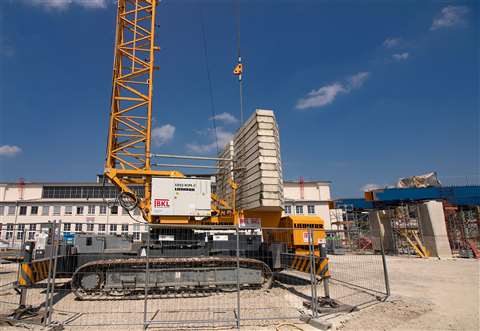 MORE ARTICLES FROM CONEXPO-CON/AGG 365 NEWS